Egypt sets timeline for power transfer
CAIRO - Egypt's interim President Adli Mansour approved on Monday evening a constitutional declaration for the transitional period after the recent ouster of Islamist Mohamed Morsi, state-run MENA news agency reported.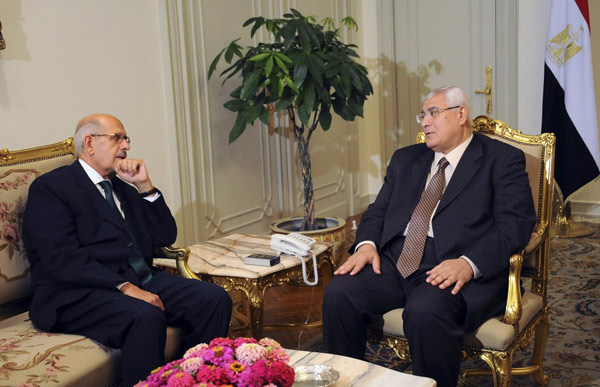 Egypt's interim President Adli Mansour (R) meets with opposition leader and former UN nuclear agency chief Mohamed ElBaradei at El-Thadiya presidential palace in Cairo in this handout picture dated July 6, 2013. [Photo/Agencies]
The declaration includes a timeline for transferring power to a democratic civilian government.
The declaration will be valid during post-Morsi transitional period, which is set to be six months, according to the report.
And it will end after the presidential elections are held, which were scheduled for early next year.
According to the 33-article declaration, parliamentary elections will also be held within the transitional period.  
Meanwhile, some articles of the declaration state that the country's economic system is based on social justice, and all citizens are equal before the law and personal freedom is a normal, protected right.
Other articles give the citizens the right to form societies, syndicates, unions and parties, according to the criteria set by the law.
With regards to gatherings and protests, the tenth article says that "the citizens have the right to organize public meetings, marches and peaceful demonstrations without carrying weapons," but it conditions "a prior notice" as a prerequisite.