Parents of plane crash victims leave for US
HANGZHOU - Grieved parents of Chinese victims of a San Francisco plane crash left for the United States Monday afternoon, according to local authorities.
Eight of the relatives of two teenage girls who were killed in the crash, as well as another four relatives of two people who were injured in the Saturday crash, boarded a flight bound for San Francisco after traveling to Shanghai and obtaining their visas, said the publicity department of the city government of Jiangshan in east China's Zhejiang Province, where the two victims came from.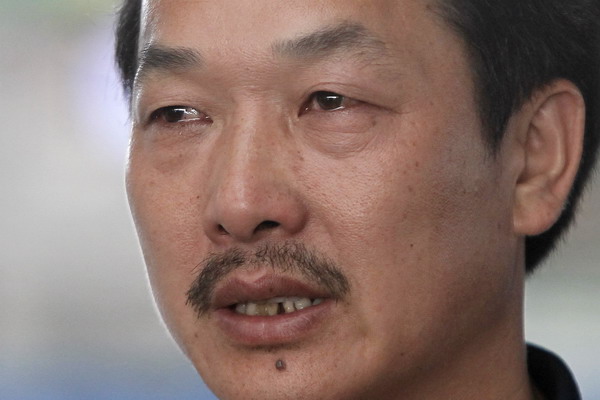 The father of Wang Linjia, one of the two girls killed during the Asiana Airlines plane crash on Saturday, leaves for San Francisco from Shanghai Pudong airport, July 8, 2013. [Photo/Agencies]
The flight is expected to arrive in San Francisco on Tuesday.
The 12 people are being accompanied by two teachers from the victims' middle school and four local government officials.
Mao Yunzhong, the uncle of one victim, said the family felt relieved Sunday afternoon when they heard the news on TV that his niece was being treated at a hospital. However, they were later informed that the girl died in the hospital.
"She was such a hard-working and excellent girl and everyone liked her," Mao said.
The parents of the surviving students asked the officials to take clothes and daily necessities for their sons and daughters, as they were told the students' luggage went missing or was destroyed in the crash.
Mao Xiaojun, the mother of a surviving student from Jiangshan Middle School, said she remains worried about her son.
"My son is upset, as he learned that two of his classmates died in the plane crash," she said.
Mao Zhengcai, deputy mayor of Jiangshan, said the municipal government has called on Chinese living in San Francisco who come from the city of Jiangshan to provide assistance to the surviving students.
Asiana Airlines flight 214 crashed while landing at San Francisco International Airport on Saturday.
The crash killed two people and injured 182 others.
The two girls killed in the crash were among a group of 30 students and five teachers from Jiangshan Middle School who were traveling to the United States to attend a summer camp.
The Zhejiang Provincial Education Department on Monday told schools and related institutions in the province to ensure that summer camps and study tours are safe for involved students and teachers.