Campaign kicks off as Abe travels to Fukushima
Tokyo - Official election campaigning for Japan's House of Councilors, better known as the upper house, kicked off on Thursday as Japanese Prime Minister Shinzo Abe was in disaster-ravaged Fukushima on the first leg of his nationwide tour.
He presented his economic and political ambitions by pillorying the divided parliament that has slowed down rebuilding in the area, where a nuclear disaster was triggered by a massive earthquake and tsunami in 2011. Two years later, more than 300,000 people remain displaced and the cleanup and reconstruction process is still ongoing.
Candidates from Japan's nine political parties are out to win over voters in the upper house election on July 21. The ruling Liberal Democratic Party-New Komeito coalition is taking the lead in the pre-election drive by stressing the results of Abe's economic policies, dubbed as Abenomics, in the past seven months.
Japan's economy grew at an annualized rate of 4.1 percent from January to March, as private consumption and a rebound in exports led a recovery from a slump last year. Abe hopes to capitalize on the momentum.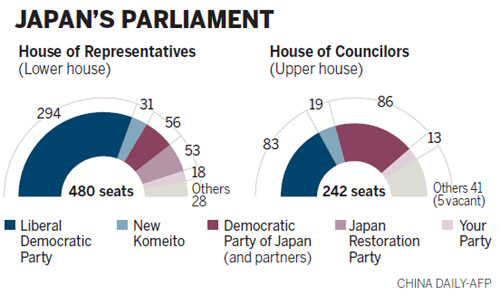 The LDP and New Komeito must secure the 129 seats needed for a stable majority in the 242-seat upper house. The two parties need to win 70 seats out of the 121 up for grabs to ensure a working majority.
The LDP continues to enjoy a comfortable lead in the run-up to the July 21 election.
Despite the small slide in approval ratings for the Abe cabinet reported in newspaper polls, they remain at easily the highest levels six months into office since the popular administration of Junichiro Koizumi more than a decade ago.
Japan's opposition parties are divided on campaign strategies and have failed to join hands against the ruling bloc.
Voters' distrust of the Democratic Party of Japan continues to linger even after the party's crushing defeat in December's lower house election, underscoring its critical situation ahead of July's race.
The Japan Restoration Party was hobbled by the controversy over co-leader Toru Hashimoto's remarks on the wartime "comfort women" issue and his subsequent feud with co-leader Shintaro Ishihara.
But challenges also await the LDP. Ordinary Japanese citizens and local economies have not felt the benefits of Abe's policies. Rural areas strongly oppose Japan's entry into the Trans-Pacific Partnership free trade scheme, and many people oppose the restart of nuclear power plants and the idea of weakening the constitutional procedure designed to prevent imprudent revisions of Japan's constitution, all pushed by Abe.
Japanese political pundits and lawmakers agree that once Abe has two national election victories under his belt - freeing him of effective opposition in parliament - he will finally be able to shift his attention to his favorite topics of changing Japan's pacifist constitution, allowing Japan to use collective self-defense and reframing Japan's understanding of its past, especially its aggression of Asian countries.
Though aligned with the LDP for more than a decade, New Komeito is pledging to protect Japan's pacifist constitution as part of its policies for the upper house election.
In a debate with leaders of opposition parties on Wednesday, Abe said wartime issues such as whether Japan colonized the Korean Peninsula and engaged in a war of aggression against China should be left in the hands of historians.
He declined to say whether he would worship in the controversial Yasukuni Shrine on Aug 15, the day of Japan's World War II surrender, but claimed that those who are enshrined there are respectable.
Contact the writer at caihong@chinadaily.com.cn