Police fire stun grenades at protesters against Obama
JOHANNESBURG - Police fired stun grenades on Saturday at hundreds of protesters against US President Barack Obama's visit to South Africa, said a witness on the spot.
The witness heard several laud bangs and saw smoke rising from the scene.
Some protesters ran for shelter but most of them continued the protest.
There is no immediate word on casualties. Police were seen arresting people.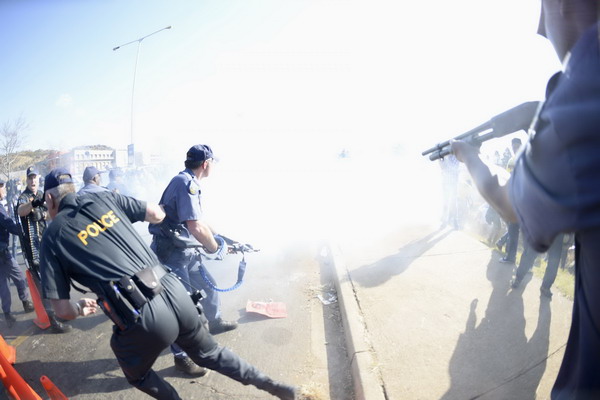 Smoke fills the air as police use stun grenades in an attempt to disperse protesters outside the University of Johannesburg in Soweto, ahead of a visit by US President Barack Obama, June 29, 2013. [Photo/Agencies]
The protest took place outside the University of Johannesburg (UJ) Soweto Campus where Obama is scheduled to hold a town hall meeting later Saturday.
Similar protests also took place in Pretoria on Friday, but the protests went peacefully.
Protesters demanded that the United States stop its aggressive police which lead to crimes against humanity in relation to the wars in Iraq and Afghanistan, Middle East conflict, globalization and global warming.
Saturday's protest was organized by the No You Can't Obama Campaign (Nobama), which said that when Obama comes to UJ Soweto campus, he will be confronted with a massive protest.
The campaign, along with students from the UJ, South African Students Congress and the Young Communist League, is also protesting the university's "poor and undemocratic" decision to award Obama an honorary doctorate.
The Congress of South African Trade Unions is also mobilizing workers to take part in the protest.
Obama arrived in South Africa Friday evening on a three-day official visit, his second visit to South Africa and the first as the US president. He came from Senegal and will continue to Tanzania after South Africa.