Australia's former leader Rudd wins Labor caucus ballot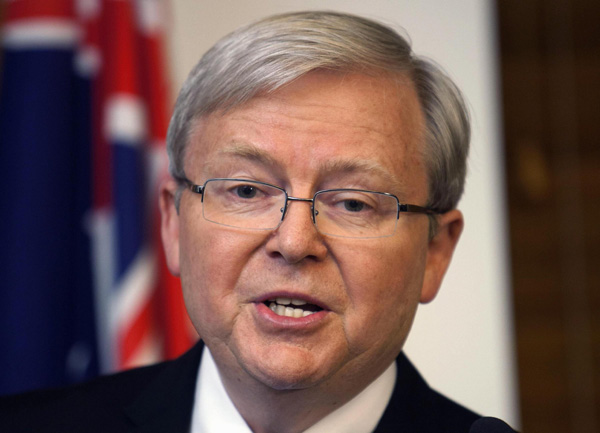 Australia's former prime minister Kevin Rudd speaks to the media at Parliament House in Canberra June 26, 2013. Rudd confirmed on Wednesday he would challenge Prime Minister Julia Gillard for the leadership of the ruling Labor Party, in a move that could see him lead the party to elections due within three months. Rudd led the Labor Party to victory in late 2007, but was dumped by his party in favour of Gillard in June 2010. [Photo/Agencies] 
CANBERRA - Australia's former leader Kevin Rudd won Labor caucus ballot on Wednesday evening, defeating incumbent Prime Minister Julia Gillard in a 57-45 vote.
Party Returning Officer Chris Hayes announced the result to reporters immediately after the conclusion of vote, which was called by Gillard after a day of internal party manoeuvring to dump her in favor of her arch-rival and predecessor, whom she had deposed in 2010.
Before Rudd can be sworn into office as Australia's new prime minister, he must also win a confidence vote in the parliament, which is expected to happen Thursday, and obtain endorsement from Governor General Quentin Bryce.
The vote of Labor Party lawmakers followed months of destabilizing leadership speculation, fueled by opinion polls pointing to an election wipeout for Labor against the Conservative Opposition headed by Tony Abbott.
Rudd's return as prime minister came almost three years to the day after he was dumped in favor of Gillard, who was Australia's first female prime minister, and following two aborted leadership attempts, the most recent in March.
Rudd is likely to team up with Anthony Albanese, current minister for infrastructure and Transport, to lead Labor to take part in the federal elections originally scheduled for September 14 this year, sources said.