Hassan Rouhani wins Iran's presidential election
TEHRAN - Iran's moderate candidate Hassan Rouhani has won the presidential election by garnering 50.71 percent of the votes, the interior minister announced Saturday.
The president-elect won 18,613,329 votes out of 36,704,156, Iran's Minister of Interior Affairs Mostafa Mohammad-Najjar said Saturday evening.
Hardline conservatives lagged far behind with their top contender Tehran mayor Mohammad-Baqer Qalibaf grasping only 16.58 percent of the votes.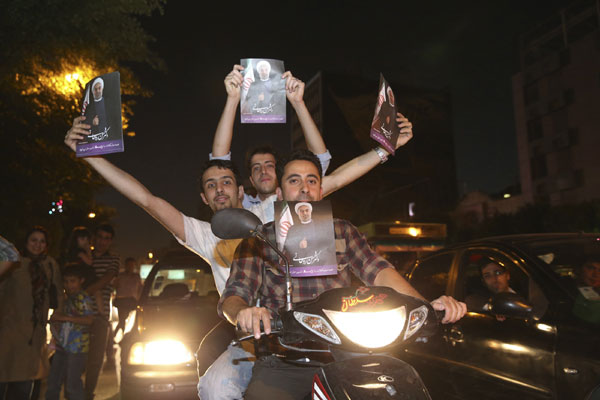 Supporters of moderate cleric Hassan Rohani hold his pictures as they celebrate his victory in Iran's presidential election on the streets of Tehran, June 15, 2013. [Photo/Agencies]
Hardliners had been perceived to boast great advantages against the moderate till days before the election. But Rouhani jumpstarted his chances by raising the banner of reform during the final stage of his campaign, which echoed Iranians' ardent desire for change.
Iran's Supreme Leader Ayatollah Ali Khamenei congratulated Rouhani on Saturday as the new president of the Islamic republic, Press TV reported.
In a message issued on Saturday, Khamenei said Rouhani is the president of the whole nation and that the Iranian nation is the real winner of the election.
He thanked the Iranians for "creating an epic" by their high turnout in the election which, according to him, "nullified the plots" of Iran's enemies, said Press TV.
On Friday, Khamenei said the enemies intended to "discourage the Iranian people" so that "they would not attend the polling stations," and emphasized that "the Iranians disregarded the enemies' attempts."
The Iranian leader dismissed some US officials' recent comments on the Iranian poll and said that "it is not significant that you do not accept Iran's election."