US F-15 jet crashes off Japan's Okinawa
TOKYO - A US F-15 jet crashed off Japan's Okinawa prefecture Tuesday morning, according to Japan's Kyodo News.
Meanwhile, Japan's 11th Region Coast Guard Headquarters said it was informed by the US Forces in Japan at around 9 am local time that an F-15 jet crashed 100 km east off Okinawa and the pilot escaped.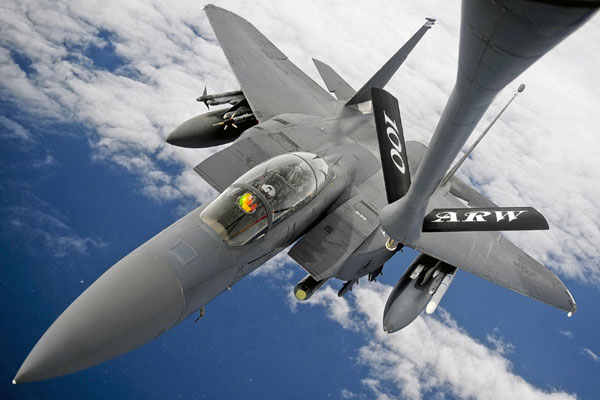 An F-15E Strike Eagle receives fuel from a 100th Air Refueling Wing KC-135 Stratotanker during a refuelling mission over the Atlantic Ocean in this US Air Force handout photo taken Sept 10, 2012. [Photo/Agencies]
As of now, Japan has dispatched patrol aircraft and vessels to the accident site.
Japan's Chief Cabinet Secretary Yoshihide Suga also said Japan has been informed about the incident and is gathering information on it.
The crashed fighter, along with other three F-15s, was on way to participate in training above Okinawa from the US Kadena airbase in the prefecture.
A US F-15 fighter crashed in 2006 and the pilot successfully escaped from the plane.