Osaka people rally against mayor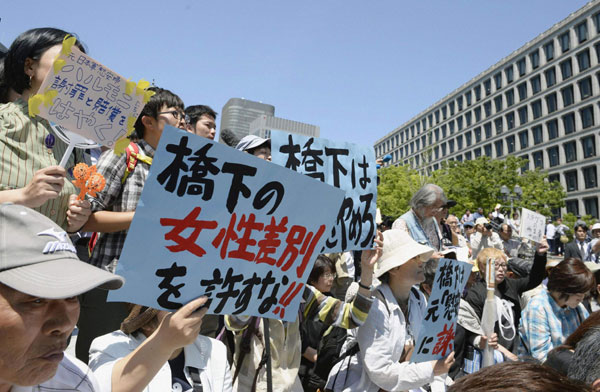 Protesters holding placards attend a rally in front of Osaka City hall in Osaka, western Japan, in this photo taken by Kyodo May 24, 2013. Two elderly South Korean women forced to work in Japanese wartime military brothels abruptly cancelled a meeting with Osaka Mayor Toru Hashimoto after he refused to withdraw remarks asserting the brothel system was "necessary" at the time. The placard (2nd left) reads, "No Discrimination Against Women by Osaka Mayor Hashimoto".[Photo/Agencies]
OSAKA - Local people held a rally on Friday against the stubborn political stance of Osaka Mayor Toru Hashimoto, who is also co-leader of the opposition Japan Restoration Party.
The rally occurred following the cancellation of a scheduled meeting between the mayor and two Korean women who were recruited during World War II by the Japanese military into sexual servitude also known as "comfort women", local media reported.
Prior to the rally, city officials announced that Hashimoto's meeting with the women, which had been scheduled for the morning, was called off after they refused to speak with the mayor.
Citing the women, their supporters said that Hashimoto would use the meeting as a chance to further justify his stance and repair the image of his political party.
In place of the meeting, about 100 Osaka residents and supporters of the two former "comfort women", plus foreign journalists, gathered on the street in front of the Osaka City Hall to protest against Hashimoto's views on the issue, according to the Mainichi Shimbun daily.
The mayor has said that "sexual exploitation of women during wartime was not unique to Japan at all."
During the rally, some members held up posters demanding the mayor stop telling lies and immediately resign from his position, while supporters of the former "comfort women" handed papers to passers-by explaining the reason for canceling the event.
Meanwhile, the Mainichi Shimbun report said a group of lawyers based in the city has begun considering procedures for the recalling of the mayor.