Bombers target markets, mosque in Iraq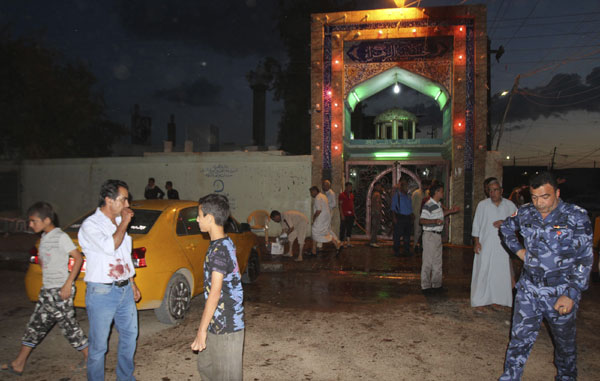 Residents gather outside Al-Zahraa husseiniyah, a Shiite place of worship, after a suicide bomb attack in Kirkuk, 250km north of Baghdad, May 16, 2013. A suicide bomber detonated his explosives inside the Shi'ite mosque in the northern Iraqi city of Kirkuk on Thursday, killing at least eight people as they attended a mourning ceremony, police said. [Photo/Agencies]
BAGHDAD - Bombs tore through markets in Baghdad and a suicide attacker blew himself up in a mosque in northern Iraq in violence across the country on Thursday that killed at least 25 people and extended a surge in sectarian-tinged bloodshed.
Attacks on Sunni and Shi'ite Muslim mosques, security forces and tribal leaders have spread since security forces raided a Sunni protest camp near Kirkuk a month ago, igniting clashes and fuelling fear of a slide back into all-out inter-communal war.
Iraq has grown more volatile as the civil war in neighbouring Syria strains fragile relations between Sunni and Shi'ite Muslims. Tensions are now at their highest since the last US troops pulled out at the end of 2011.
On Thursday, a suicide bomber set off his explosives in a mosque in the ethnically mixed city of Kirkuk, killing at least eight among mourners gathered to pay respects to people killed in a bombing a day earlier.
A witness said pieces of flesh and torn clothing lay scattered among pools of blood on the mosque floor.
"I lost seven members of my family," said Munaf Hussein, one of the relatives, crying and striking the top of his head in a show of grief outside the mosque.
Earlier, three car bombs exploded in busy markets in eastern and northeastern Shi'ite districts of the Iraqi capital, killing at least 14 people and wounding 26, police said.
In a separate incident, assailants with silenced weapons shot dead a prominent Sunni tribal leader in his car in southern Baghdad and seriously wounded his driver, police said.
In the northern city of Mosul, another suicide car bomber attacked a military checkpoint, killing two soldiers and wounding three, and a separate car bomb wounded two soldiers on patrol.
No group immediately claimed responsibility for the latest violence, which followed bombings that killed more than 35 people in Baghdad and the north on Wednesday.
According to the United Nations, April was Iraq's bloodiest month for almost five years, with 712 people killed.
The Iraqi government is embroiled in power struggles between majority Shi'ites, Sunnis and ethnic Kurds.
Minority Sunnis, who lost their dominance when the US-led invasion toppled Saddam Hussein in 2003, have been protesting for months against Shi'ite Prime Minister Nuri al-Maliki.
Emboldened by the Sunni-led revolt in Syria, Iraqi Sunni insurgents, some linked to al Qaida, have intensified attacks this year, threatening to drag Iraq back into communal strife.