Donors pledge 3.25b euros to aid Mali recovery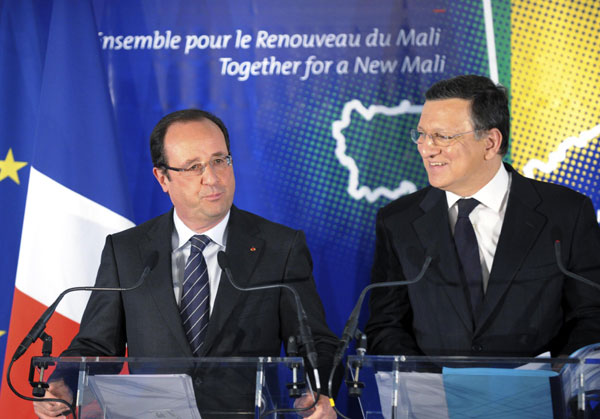 French President Francois Hollande (L) holds a news conference with European Commission President Jose Manuel Barroso at the donors' conference on the development of Mali in Brussels May 15, 2013. [Photo/Agencies]
BRUSSELS - International donors pledged 3.25 billion euros ($4.22 billion) on Wednesday to help Mali recover from a conflict with al-Qaida-linked Islamists, exceeding the West African country's target.
The development drive for Mali, one of the world's poorest countries, is aimed at halting a resurgence of the rebels driven out of major northern towns by a French-led offensive this year.
"More than 3.25 billion euros have been mobilised at this conference," French President Francois Hollande told the meeting, organised jointly by France and the European Union.
More than 100 delegations took part in the conference, including 10 presidents or prime ministers.
The EU's executive Commission will allocate 524 million euros to Mali. Large pledges by France, the United States, Britain, Germany, Denmark, the Netherlands, the Islamic Development Bank and others enabled the West African country to exceed its goal of raising two billion euros.
It needs the money to fill a funding gap in a 4.34 billion euro plan to keep the peace and build infrastructure over this year and next.
EU, French and Malian officials declared the conference a success. "It went beyond what we could have hoped for ... This conference marks a new chapter in the fight of civilization against terrorism," Malian President Dioncounda Traore told a news conference.
French and EU officials said that releasing the bulk of the money was dependent on Mali fulfilling its commitment to holding presidential elections on July 28.
"We cannot wait for the elections. One third of the EU commitment will be financed before, but two thirds depends on the elections," French Development Minister Pascal Canfin told Reuters.
He also said Mali must push through reforms in justice, fighting corruption, public finances and decentralising power.