Retrial of Egypt's Mubarak adjourned to June 8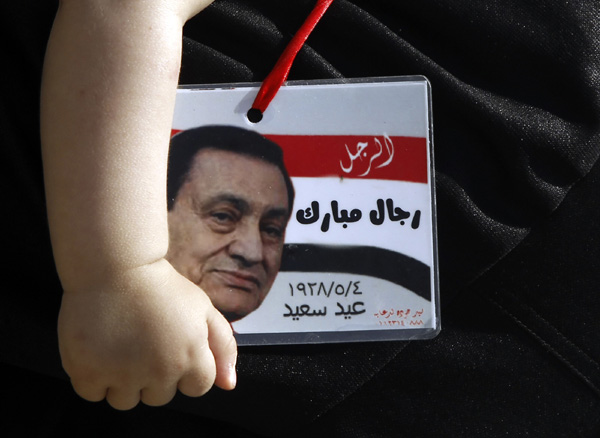 A boy holds a card with a picture of Egypt's former president Hosni Mubarak outside the police academy where Mubarak's trial will take place, in Cairo May 11, 2013.  [Photo/Agencies]
CAIRO - Egypt's court decided Saturday to adjourn the retrial of former president Hosni Mubarak to June 8, state TV reported.
The retrial includes Mubarak, his two sons Alaa and Gamal, former interior minister Habib al-Adli, six former top police officials and fugitive business tycoon Hussein Salem over charges of responsibility for killing protesters as well as corruption and profiteering.
Cairo Criminal Court, presided by Judge Mahmoud Kamel al- Rashidi, adjourned the retrial to June 8 to completely review the cases, examine sealed evidence and give a chance for the defense staff to go through documents of charges submitted by the prosecution.
The court also decided to keep Mubarak, along with his two sons and ex-interior minister, in custody but maintain the temporary release of six former security officials.
During the morning session, the prosecution listed the charges against Mubarak, his two sons, former interior minister, aides and the fugitive businessman who is currently negotiating reconciliation with the government by giving up a large portion of his wealth.
When the presiding judge asked Mubarak if he'd like some volunteer Kuwaiti lawyers to defend him in this session, the former president replied, "I refer the issue to my lawyer Farid al- Deeb." His lawyer thanked the Kuwaiti lawyers but declined their initiative.
Mubarak and Adli were sentenced to life imprisonment in June 2012 over responsibility for killing protesters in the 2011 upheaval. They appealed the verdict and the court finally set May 11 for their retrial.
Mubarak ruled Egypt for three decades and was toppled by nationwide protests that swept the country in January 2011.