Mandela's condition has improved: S. Africa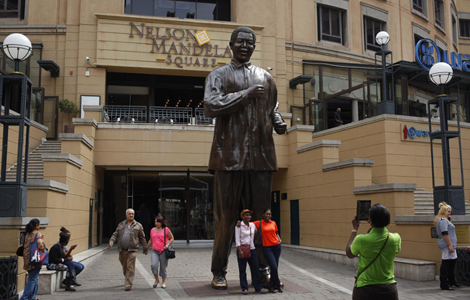 Visitors pose for photographs in front of a statue of former South African president Nelson Mandela in Sandton, Johannesburg, March 30, 2013. [Photo/Agencies]
JOHANNESBURG - The condition of South Africa's former President Nelson Mandela has improved further, the government said on Sunday, as the 94-year-old anti-apartheid hero spent a fourth day in hospital receiving treatment for pneumonia.
"Nelson Mandela had a restful day," South Africa's presidency said in a statement, adding doctors treating him had reported "a further improvement in his condition".
"Government is satisfied that the doctors are providing the former president with the best medical care possible to enable his recovery and comfort," the statement said.
In their first detailed report of his condition, doctors said on Saturday that Mandela had "developed a pleural effusion which was tapped", meaning they had drained excess fluid from around his lungs.
It is his third visit to hospital in four months, raising new concerns about the health of the Nobel Peace Prize laureate.
Mandela, who became South Africa's first black president in 1994, is revered at home and abroad for leading the struggle against white minority rule, then promoting the cause of racial reconciliation when in power.
He stepped down as president in 1999 and has not been politically active for around a decade.  
President Jacob Zuma on Sunday thanked "the thousands of South Africans who prayed for Madiba at various Easter church services during the weekend". Madiba is Mandela's clan name.
"We also thank foreign governments for their messages of support," Zuma said. Global figures such as US President Barack Obama have sent get-well messages.
In the Regina Mundi Catholic Church in the sprawling black township of Soweto that Mandela once called home, worshippers attending Easter service prayed for the man seen by many as the father of their nation.
"We hear that the government tells us that he's okay, that he's still undergoing treatment for his lung condition, and as I say, we pray that God's healing hand may be upon him," Father Sebastian Russouw said during the service.
Mandela was in hospital briefly earlier in March for a check-up and spent nearly three weeks in hospital in December with a lung infection and after surgery to remove gallstones.  
He has a history of lung problems dating back to when he contracted tuberculosis as a political prisoner.
He spent 27 years in prison on Robben Island off South Africa's Atlantic coast and other jails for his attempts to overthrow apartheid rule.