Obama makes plea for gun control legislation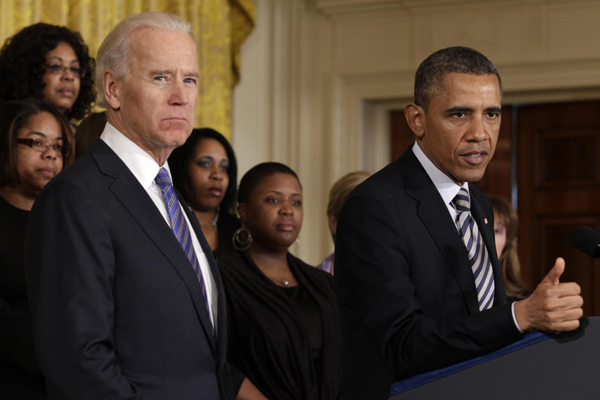 US President Barack Obama (R) delivers remarks next to Vice-President Joe Biden on common-sense measures to protect children from gun violence at the White House in Washington, March 28, 2013. [Photo/Agencies]
WASHINGTON - US President Barack Obama attempted on Thursday to inject fresh momentum into efforts to pass gun-control legislation, pleading with US lawmakers not to forget those shot to death in Newtown, Connecticut three months ago.
Amid signs that he may have to accept a scaled-down version of gun legislation, Obama sounded a note of frustration in calling upon Americans to demand action from the US Congress in the weeks ahead.
He said the legislation's opponents, the powerful US gun lobby led by the National Rifle Association, are "doing everything they can" to derail the effort barely 100 days after the Sandy Hook Elementary School massacre, in which a gunman killed 20 children, six staff members and then himself.
"The entire country pledged we would do something about it and that this time would be different. Shame on us if we've forgotten. I haven't forgotten those kids. Shame on us if we've forgotten," said Obama, appearing at the White House with mothers of children who had been shot to death.
The gunman in Newtown, Adam Lanza, fired 154 rounds in less than 5 minutes, selecting high capacity magazines from a home arsenal stocked with swords, knives and a cache of guns, officials said Thursday.
Despite events like this, a grassroots organizing effort by Obama supporters and a high-profile advertising campaign funded by New York Mayor Michael Bloomberg to keep up the pressure, gun legislation has been stalled on Capitol Hill in recent weeks.
The best chance of success for gun-control advocates is that Congress will approve universal background checks for gun purchasers and tougher penalties for gun trafficking.
Less likely to pass are bans on assault weapons and high-capacity ammunition clips, two of the main proposals to emerge from Vice-President Joe Biden's gun violence task force, formed by Obama after the Newtown shootings.
'Just the beginning'
Biden seemed to acknowledged the challenge when he said on a conference call on Wednesday organized by Mayors Against Illegal Guns that the administration will keep pressing for action regardless of what Congress does in the immediate future.
"Let me say this as clearly as I can: This is just the beginning," Biden said.
Obama had hoped at the outset of his second term to use his re-election mandate to make rapid progress on three major issues: gun violence, deficit-reduction and immigration reform.
All are moving slowly, however.
Immigration may offer the best prospect for action as Republicans seek to attract more Hispanic Americans who voted overwhelming for Obama and his Democrats in the 2012 elections.