S. Africa diplomat vows cooperation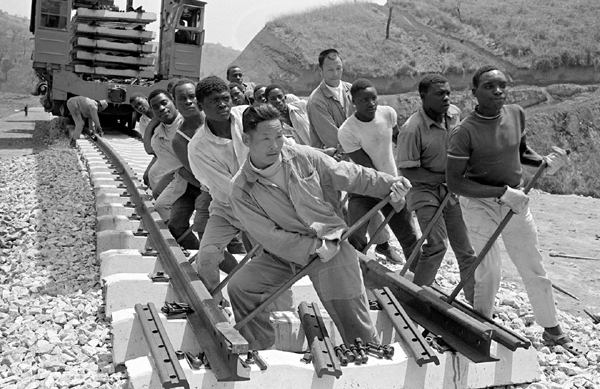 Chinese and African laborers work at the construction site of the TAZARA railway. In the 1970s, China sent experts, specialists and about 15,000 workers to build the strategic railway, which linked Dar es Salaam, Tanzania, to central Zambia. [Photo/Xinhua]
Ambassador sees greater role for BRICS countries in world affairs
South Africa has pledged greater cooperation with China and to inject new ideas to enrich relations, the South African ambassador to China said.
Bheki Langa made his remarks before President Xi Jinping's visit to South Africa. The countries mark 15 years of diplomatic ties this year.
The ambassador said his country is looking forward to Xi's visit and is honored by it. Xi visited South Africa in 2010 as vice-president.
The president will attend the fifth BRICS summit in Durban on Tuesday and Wednesday.
The countries that make up BRICS, an organization of emerging economies, are Brazil, Russia, India, China and South Africa.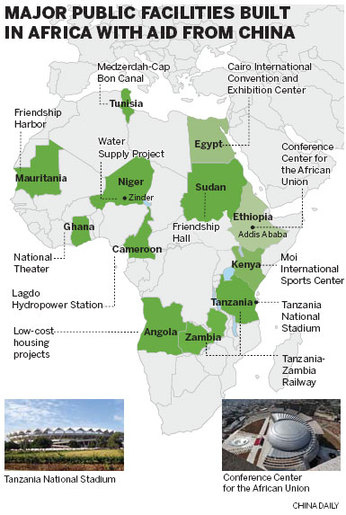 Langa said the BRICS summit will cover the promotion of African infrastructure development, and the establishment of a BRICS-led development bank, think tank and business council.
Since "the Rainbow Nation" was admitted to the group in 2011, South Africa has brought its own experience and perspective to the BRICS with its unique history and independent foreign policy, he said.
South Africa's potential, combined with the economic power of the other members, will "enable the BRICS grouping to pave the way for a new global pattern" focusing on emerging economies, he said. Langa added that his country is working closely with China and other members of BRICS to advance the role of developing countries in international relations, and "ultimately to help fashion a more equitable global political and financial architecture".
Xi said before his trip that China supports the South African presidency's prioritizing of ideas such as the establishment of a BRICS development bank. He added that the development of cooperation between the BRICS facilitates the formation of a balanced world economy and democratic international relations.
China has become South Africa's largest trading partner both as an export destination and as a source of imports since 2008. Langa said his country is the destination for 25 percent of Chinese exports to the African continent and the source of 38 percent of Chinese imports from the continent.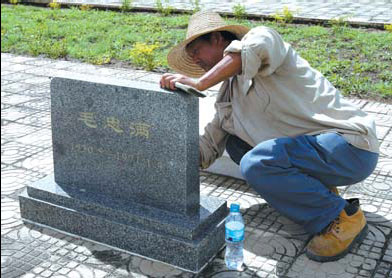 A worker cleans the tombstone of Chinese specialist Mao Zhongman at the Chinese Experts Cemetery in southwestern Dar es Salaam, Tanzania, in March. Meng Chenguang / Xinhua
Chinese people's interest in South Africa is growing rapidly. About 100,000 Chinese people visit South Africa every year, and the number is rising.
But trade between the two sides is not well balanced. "Currently, South Africa's exports to China are largely raw materials, mainly iron ore, while the bulk of imports are value-added products, and this pattern is set to change," he said.
South Africa has issued a list of top 10 value-added products that it can supply to China.
These include agro-processing products, chemicals, plastics, steel and automotive tooling, to address the trade imbalance, the ambassador said.
His country's Department of Trade and Industry, in partnership with the Chinese Ministry of Commerce, jointly hosted the South African expos in China, the most recent of which were held in 2011 in Beijing and Shanghai.
The aim was to expose Chinese buyers to a different range of South African exporters in various fields, to help further expand business opportunities and create sustainable partnerships between the business communities.
Contact the writers at qinzhongwei@chinadaily.com.cn and xingxudong@chinadaily.com.cn