Center brings security to Chinese in Johannesburg
Thanks to its nice weather, beautiful landscape and interesting cultural experience, South Africa has been attracting more Chinese people to visit, work, study and immigrate. However, that has raised the issue of public security.
To build a more secure living environment and keep good public order, the South African Chinese Community and Police Cooperation Center has being playing a crucial role.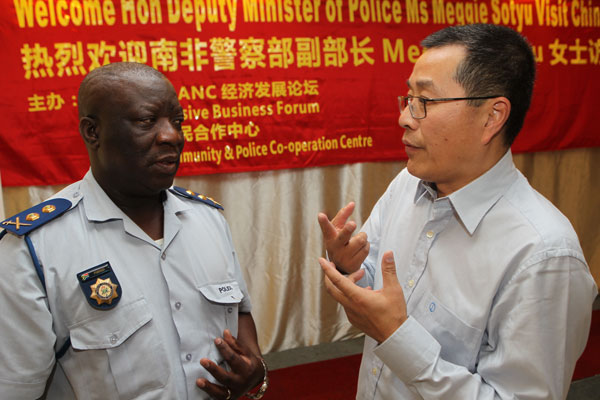 Major General Theko Pharasi talks to Xu Peihua, secretary-general of the South African Chinese Community and Police Cooperation Center on local security issues. liang quan / AFRICAN TIMES
Since June, a Chinatown South African Police Service Reporting Center associated with the police cooperation center has been available 24 hours a day, seven days a week.
The reporting center is able to advise and assist the community with basic police services. The mechanism will provide translators to those who cannot communicate in any of the local languages. Cases are reported at a local police station, which makes service at the police cooperation center more efficient and effective.
"The reporting center will become a strong umbrella for the Chinese community in South Africa," said Chinese Ambassador to South Africa Tian Xuejun.
About 80 percent of the 300,000 Chinese people in South Africa live in Johannesburg. But 90 percent of the Chinese residents do not speak any English.
The quickly accumulated wealth in the Chinese community and the lack of local language skills to facilitate communication with police make Chinese people easy targets for crime.
A few years after migrating to South Africa, most hard-working Chinese in the early 2000s were able to run good businesses or open companies. But in 2003, there were 24 Chinese people murdered in Johannesburg. Nobody dared walk at night in Chinatown because of fear of robbery and blackmail.
In one row of 14 warehouses, all eight Chinese warehouses were robbed while the rest were untouched. When the gang was arrested, many products from China such as bedclothes and ceramics were found.
When the South African Chinese Community and Police Cooperation Center was established in Johannesburg in 2004, it helped Chinese people report crimes and supported South African police investigate cases involving Chinese.
Meggie Sotyu, South Africa's vice-minister of police, applauded the work of the center during her first visit there in 2012.
She regarded the center as a model of community safety, Xinhua News Agency reported.
However, after the center was established, the Chinese community was at first afraid of seeking help there.
Xu Peihua, secretary-general of the police cooperation center, once received a note saying, "Could you please meet me at the following address, I want to report a case". When Xu arrived, he received a call giving another location to meet.
It turned out to be the owner of a Chinese noodle house opposite the center, reporting that his restaurant had been attacked by armed robbers.
"The victims were so afraid of being followed by those gangsters that they did not come to our office to report the case directly," Xu said.
Due to the lack of legal awareness in the Chinese community, most victims refuse to accuse their attackers in the court.
"Some of them even asked us to bluff the gangsters by simply warning them not to visit the shop and then closing the cases," Xu added.
To improve awareness, the center also published articles in Chinese newspapers about crimes and how to avoid being attacked.
After years of cooperating with South African police, the center has collected a lot of information that also aids police from China.
In the latest crackdown launched by Chinese and South African police in South Africa early this year, 37 people suspected of involvement in underground activities and prostitution were arrested.
Niu Haifeng, a director from the international cooperation department of the Ministry of Public Security, said the Chinese community, particularly the police cooperation center, provided a lot of useful information in the process of solving crimes.
The center acts as a link between South African police and the Chinese government, as well as bridging Chinese and local communities.
"With help from both police groups and support from both communities, the small cooperation center can make a bigger contribution to safety in South Africa and community integration," Xu added.
zhaoyanrong@chinadaily.com.cn