Iraq still grapples with violence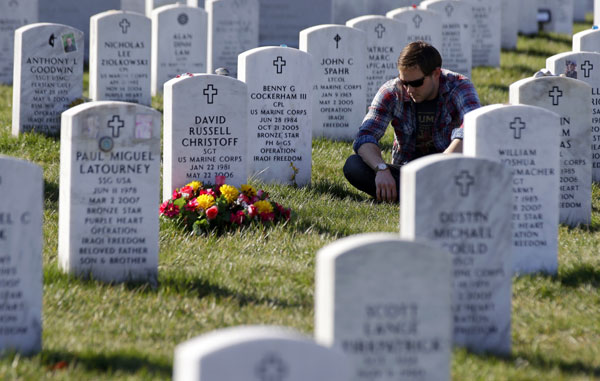 Ryan Lamke of Washington sits by the grave of his fellow US marine, Corporal Benny G. Cockerham III, in Section 60 of Arlington National Cemetery on Tuesday, in Arlington, Va. Cocherham died when his Humvee was hit by an improvised explosive device in Iraq. [Photo/Agencies]
One decade after US-led invasion, country struggling for stability.
Grappling with a spike in violence and a worsening political situation, Iraq on Wednesday marked 10 years since a US-led invasion that sought to establish a stable, democratic ally in the Middle East.
The event was met with little fanfare in Baghdad, falling a day after a wave of bombings and gun attacks killed 65 people in the Iraqi capital as some ministers began a cabinet boycott and officials delayed provincial polls.
In Washington, US President Barack Obama released a muted statement that paid tribute to the "sacrifice" of his nation's troops, but had few words for the Iraqi people, promising instead to support wounded US veterans of the conflict.
Iraqi officials have not announced any ceremonies to mark the anniversary on Wednesday, with events more likely to be held on April 9, the day Baghdad fell.
Violence has spiked ahead of the anniversary, with 116 people killed in the past week, according to an AFP tally based on reports from security and medical officials, with the worst of the violence striking on Tuesday.
At least 20 explosions and multiple shootings left 65 people dead and more than 200 wounded, Iraq's deadliest day in six months, reflecting the brutal unrest that continues to plague the country.
Al-Qaida claim
Meanwhile, an al-Qaida-affiliated group in Iraq claimed responsibility on Wednesday for the bloody attacks.
In a statement posted on a militant website, the Islamic State of Iraq said the car bombs and other explosions were to avenge the executions and "massacres" of convicted Sunni inmates held in Iraqi prisons.
Most of the nearly 20 attacks on Tuesday targeted Shiite areas in Baghdad.
The al-Qaida statement warned the Shiite-led government to stop executing Sunni prisoners or "expect more bad events ... and seas of blood".
Launched a decade ago with the stated goal of wiping out Saddam's stores of weapons of mass destruction, which were never found, the focus of the divisive war quickly shifted to solidifying Iraq as a Western ally in an unstable region.
Though the war itself was relatively brief - it began on March 20, 2003, Baghdad fell weeks later, and then-US president George W. Bush infamously declared the mission accomplished on May 1 - its aftermath was violent and bloody.
Separate reports by Britain-based Iraq Body Count and researchers at The Lancet put the overall death toll from the decade of bloodshed at more than 112,000 civilians.
The fatalities peaked in 2006 and 2007, when thousands were being killed on a monthly basis, with the violence only being brought under some semblance of control from 2008 onwards, as the US troop "surge" coincided with Sunni tribal militias deciding to side with US forces.