Venezuela to probe poison suspicions
Venezuela will set up a formal inquiry into claims that deceased President Hugo Chavez's cancer was the result of poisoning by his enemies abroad, the government said.
Acting President Nicolas Maduro vowed to open an investigation into the claims, first raised by Chavez after he was diagnosed with the disease in 2011.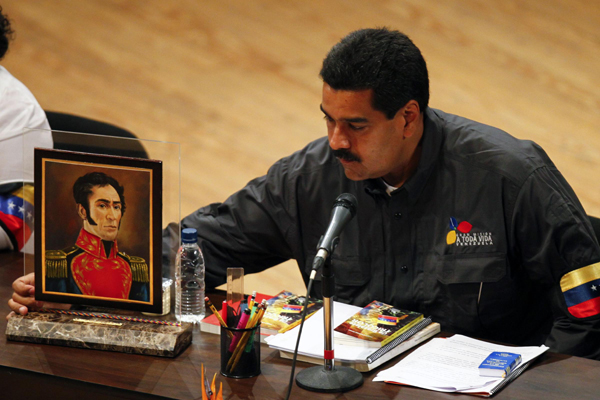 Venezuela's acting President Nicolas Maduro holds an image of Venezuelan national hero Simon Bolivar during a ceremony at the Teresa Carreno theater in Caracas March 13, 2013. [Photo/Agencies]
"We will seek the truth," Maduro told regional TV network Telesur. "We have the intuition that our commander Chavez was poisoned by dark forces that wanted him out of the way."
Foes of the government view the accusation as a typical Chavez-style conspiracy theory intended to feed fears of "imperialist" threats to Venezuela's social system and distract people from daily problems.
Foreign scientists will be invited to join a state committee to probe the accusation, Maduro said.
Maduro, 50, is Chavez's successor and is running as the government's candidate in a snap presidential election on April 14 that was triggered by the president's death last week.
International observers
Venezuelan electoral authorities said on Tuesday that they had invited international organizations to observe the upcoming presidential election.
Invitations had been extended to the Union of South American Nations, the Southern Common Market and some 50 other international bodies, said the National Electoral Council.
The race to determine Chavez's successor will be held on April 14, and some 18.9 million people are eligible to vote, according to the CNE.
So far the CNE has recognized seven of the eight applicants for candidacy, including Maduro from the ruling party and opposition leader Henrique Capriles.
The application of Pana Change party nominee Gonzalo Contreras was rejected for the failure to submit his management plan.