Anti-nuclear protesters march 2 yrs after Fukushima
Thousands of protesters marched in the Japanese capital on Sunday, calling on the government to shun nuclear power, a day before the second anniversary of an earthquake and tsunami that triggered the world's worst atomic disaster in 25 years.
Japan is still coming to terms with the disaster that ravaged its northeastern region two years ago and killed more than 15,000 people. Several thousand people are still unaccounted for.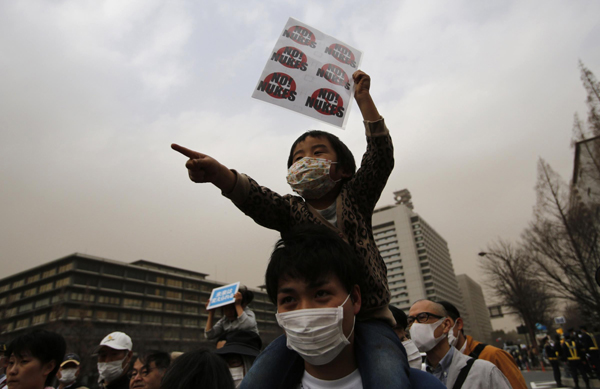 A boy takes part in an anti-nuclear march in Tokyo on Sunday. Issei Kato / Reuters
"It's becoming more and more important for us to protest. I do this for my children. We can't leave the mess of nuclear power behind to them," said a 32-year-old mother of two marching in front of the Ministry of Economy, Trade and Industry.
"People and the media are starting to forget Fukushima and what happened there," the woman said.
The nuclear meltdown at Tokyo Electric Power's Fukushima Daiichi plant forced 160,000 people from their homes, many of whom will never return. It also sparked an unprecedented protest movement against nuclear power.
TEPCO faces a decades long effort to decontaminate and decommission the wrecked nuclear plant after the worst atomic disaster since Chernobyl in 1986.
All of Japan's 50 reactors were gradually shut down after the Fukushima disaster, and all but two of them remain idle.
But the sweeping December victory of Prime Minister Shinzo Abe and his Liberal Democratic Party, which has long supported nuclear power and fostered ties between politicians, bureaucrats and utilities, is a worry for nuclear power's opponents.
In a recent survey, about 70 percent of respondents wanted to eventually phase out nuclear power. An equal number back Abe, who wants to restart offline reactors if they meet new safety standards.
Widely participated
Scholars, businesspeople and volunteers gave anti-nuclear talks as musicians performed, before the crowds marched through the government district of Kasumigaseki to parliament.
They planned to hand petitions to anti-nuclear lawmakers, urging the government to stop its nuclear program.
"I think it is adults' responsibility to achieve zero nuclear power before we die," said one of many banners held by the marchers.
Similar rallies were held elsewhere in Tokyo and across the rest of the nation, with local media reporting as many as 150 anti-nuclear events planned for the weekend and on Monday.
Protesters are calling for Abe to dismantle all nuclear plants. In many tsunami-hit cities residents dressed in black on Sunday for ceremonies to mourn the victims of the disasters.
In the hard-hit city of Rikuzentakata, where almost 1,600 people died and 217 people are still missing, Mayor Futoshi Toba reiterated his pledge to rebuild the city.
Reuters-AFP