Dispute clouds Kenyan election
Rapturous singing and dancing was seen in Kenyan streets and bars till late on Saturday night, as supporters of President-elect Uhuru Kenyatta celebrated his win over major competitor Raila Odinga by 6,173,453 votes.
As the fourth elected and youngest president in this country's history, 51-year-old Kenyatta has pledged to lead his regionally pivotal country to create more stable and sustainable development over the next few years amid a chaotic international financial market.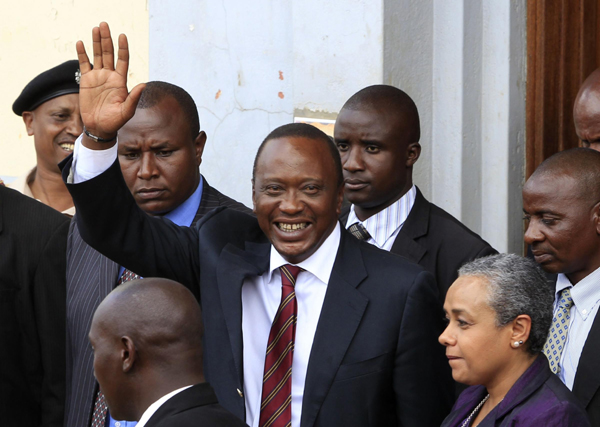 President elect Uhuru Kenyatta greets his supporters in the company of his wife Margaret soon after attending a church service in his rural home town of Gatundu, north of capital Nairobi, March 10, 2013. [Photo/Agencies]
"Today, we celebrate the triumph of democracy; the triumph of peace; the triumph of nationhood. Despite the misgivings of many in the world, we demonstrated a level of political maturity that surpassed expectations," Kenyatta said in a brief speech after the announcement.
Odinga rejected the count and has said he will go to court to contest the results. He said the electoral commission had presided over multiple failures that cast doubt on the validity of the results.
Truck driver Thomas Snr, 42, is a firm supporter of Odinga. He said the result should be examined in the Supreme Court.
"Rigging definitely is there because why are there so many false and invalid votes in strongholds of Odinga? This must be sent to the court to challenge Kenyatta's victory," he said. "But whatever the result will be, I will just accept it and move on if the new president can really stick to the constitution."
The highly anticipated new constitution was adopted in August 2010 to dilute the president's power and give more flexibility to the local counties, which partially contributed to this vote's non-violent electoral process.
"There are winners in this election, but I don't think we have losers because at least we are one nation and one people. What we want is for our new president not to be trapped into the 'tribalism mentality' any longer," he added.
Tension was high in the lead up to the election, but over the past week, people on the streets of Nairobi seemed relaxed.
Helicopters have been hovering over Nairobi for more than a week, prepared to react to any outbreak of violence.
After the last election in 2007 and 2008, street violence claimed more than 1,300 lives. The electoral process, however, remained peaceful.
Although small-scale protests have broken out in Kibera, the largest slum in Nairobi, and Kisumu, the third-largest city in Kenya, no major incident was reported following the announcement of the presidential results, according to Inspector General of Police David Kimaiyo.
But all security agents and anti-riot police forces have been directed to stay "on high alert" and cooperate with the public in case of any emergencies or violence in the following days.
This will be a bittersweet victory for Kenyatta because he will be on trial in the International Criminal Court in July with his campaign partner Vice-President-elect William Ruto in May to fight charges they fueled the mass violence after the last election in 2007.
"We Kenyan voters have proved our strong support to Mr Kenyatta and Mr Ruto by this important election, so please just leave the issue to ourselves," said Sarah Mwebi, a 34-year-old government clerk.
The victory by Kenyatta, the son of Kenya's first president, was greeted with caution from major Western powers as Kenya's strategic position in combating piracy and other regional conflicts has resulted in a complicated relationship between the East African nation and the West.
"There is really very little leverage that the Unite States and other countries can exercise," J. Peter Pham, director of the Michael S. Ansari Africa Center in Washington, told The New York Times.
Contact the writer at lilianxing@chinadaily.com.cn