Chavez undergoing 'tough' chemotherapy
CARACAS - Ailing Venezuelan President Hugo Chavez has been undergoing "tougher" new treatment for cancer, including chemotherapy at the military hospital where he has been for the past two weeks, his vice president said.
Speaking after a Catholic Mass to pray for Chavez's health, Nicolas Maduro described how the socialist president had personally given the order to leave Cuba in mid-February, two months after his latest cancer surgery there.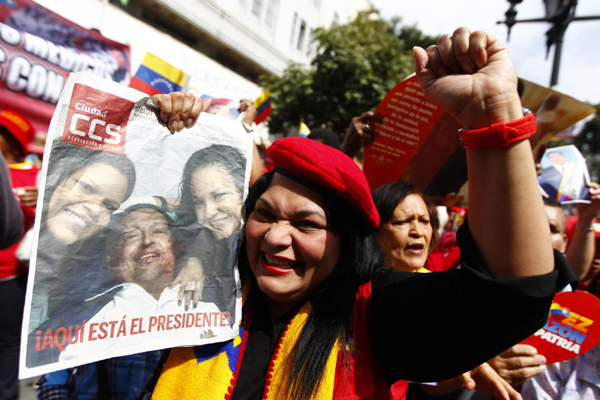 A supporter of Venezuela's President Hugo Chavez holds a picture of him as she takes part in a gathering at Plaza Bolivar in Caracas Feb 18, 2013. [Photo/Agencies]
"He said, 'I've taken the decision to return to Venezuela, I'm going to enter a new phase of complementary treatments, tougher and more intense, I want to be in Caracas,'" Maduro said in the comments late on Friday.
"Do you know what the complementary treatments are? They are the chemotherapies applied to patients after operations," he added outside a chapel in the Caracas military hospital.
Apart from one set of photos showing Chavez in a Havana hospital bed, he has not been seen or heard from in public since the December 11 surgery in Cuba, his fourth operation since the disease was detected in mid-2011.
Chavez had previous rounds of chemo- and radiotherapy, which at times left him bald and bloated. He twice wrongly declared himself cured.
Furious at rumors swirling all week that Chavez may have died, Maduro said chemotherapy was only possible because his condition had actually improved in January after a delicate few weeks following the December operation.
Chavez's No 2 urged Venezuelans to be on guard against "rumor-mongers" and "destabilizers," saying right-wing politicians in the United States were in league with Venezuela's opposition to spread lies about his boss.
"Sadly, the opposition live in a world of hatred, wrongdoing, bad feelings and bad desires," Maduro said, adding that Chavez had become sick from overworking.
"He neglected his own body to give our people his work, his love, his life," Maduro said, confirming Chavez was still using a tracheal tube to breathe and was communicating with family and aides through written messages and other "creative" means.