Fashion designers go digital to reach broadest audience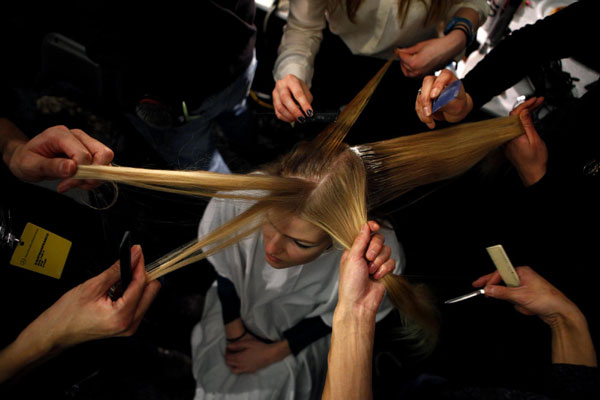 A model is made up before the KaufmanFranco Autumn/Winter 2013 collection during New York Fashion Week, February 11, 2013.  [Photo/Agencies] 
NEW YORK - Hundreds of fashion designers are showing their fall and winter 2013 collections at New York Fashion Week, but not all of them are on the runway.
The semi-annual event, which is followed by fashion weeks in London, Paris and Milan, includes up to 500 fashion shows around New York and attracts about 232,000 people, from buyers to foreign press and wealthy customers.
Top name designers at Mercedes Benz Fashion Week, which runs at Manhattan's Lincoln Center through February 14, have been streaming their runway shows online for the past three or four years.
Now, many lesser-known names, up-and coming-fashion stars and established designers who want to reach a wider, younger audience are going digital.
"This season it is really prevalent," said Stacy Roman of the New York fashion and publicity firm Factory PR. "There has definitely been an increase in this type of platform."
In addition to reaching a wider audience, going digital lets designers give fashionistas a behind-the-scenes look at the show and presentations, taking them backstage and through make-up and even fittings.
It is also far less expensive than staging a runway show, which can run upwards of $100,000 depending on the venue, models, makeup artists, stylists and disc jockeys for the show.
Thinking Outside of the Box  
Rachel Roy, who launched her first collection in 2005 and has done presentations at Fashion Week, will feature her designs in a digital runway show to stream live at www.facebook.com/RachelRoy on February 14.
"It just really seemed like the right thing to do," said Roy, whose collection juxtaposes modern and antique looks with deep jewel tones and bright metallics, textured and smooth fabrics and light with dark colors.
"I always want to think outside the box, to do something that is new and fresh, and I think part of my job is to bring newness to fashion," she said. "Part of doing that is showing to as many people that love fashion, that want it, making it accessible to them."
Roy is building a full set for her digital show and will include backstage shots to let viewers experience all elements of the production.
Los Angeles-based Kelly Wearstler is also taking the digital route and will feature plenty of denim in a collection that will be displayed in her New York showroom and in a digital show with behind-the-scenes videos shot in her California studio.
"I am in the infancy stage of my fashion world, and I have a ton to learn, so I am baby-stepping it," said Wearstler, who launched her fashion line 18 months ago but has been in interior design for more than 17 years and has a flagship store in Los Angeles.
The content will go out on several digital platforms including her blog at www.kellywearstler.com, Twitter, the content sharing service Pinterest, the photo sharing and social networking services Instagram and Facebook, as well as fashion-focused websites such as Refinery29.com, racked.com, Style.com and Vine, Twitter's new video sharing app for recording and sharing six-second clips.
"Right now I am happy where I am, learning and growing," she added.
For 32-year-old Radhika Perera-Hernandez, who designs for her New York based-Lois London (www.lois-london.com) label, there was no question that online is the place to be.
"It is the smartest way for a start-up line to get their name out there. A lot of designers that are at the same level as myself are doing the same kind of thing," she said.
Perera-Hernandez, who was born and raised in London, features kaftans, jumpsuits and swimwear in her collection.
"Anything that I am doing for the brand I will be pushing through my website and (the microblogging website) Tumblr and any of the other viral things that I have going on."