Peace mission faces campaign in Mali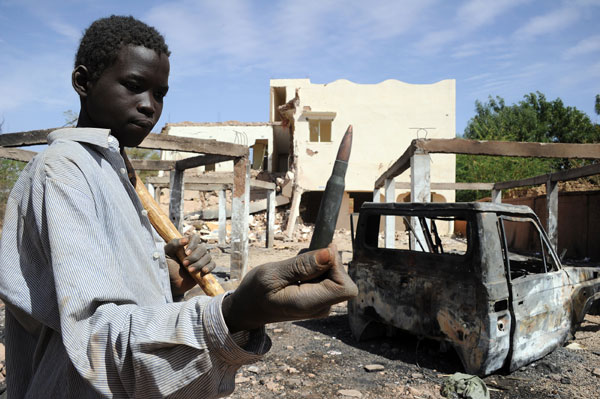 A child shows a heavy machine gun bullet on Tuesday that he found in the ruins of a building destroyed by French airstrikes in Douentza. The town was retaken by French and Malian troops in January. [Photo/Agencies]
A United Nations peacekeeping mission that the major powers want for Mali will need several years to sort out the West African country's problems, diplomats and experts have warned.
On top of a feared guerrilla campaign by al-Qaida-linked militants, the UN troops who take over from a French-African force also face a major task reconciling the Bamako government with ethnic Tuaregs in northern Mali.
France is pursuing attacks against Islamist militants in the north while working on a UN Security Council resolution that would set up a peacekeeping force, UN diplomats said.
While detailed planning is under way, the force's size, composition and mandate cannot be decided until France ends military strikes and decides its future military presence in the country, diplomats said.
French troops arrived on Jan 10 to halt a rebel surge toward the capital, Bamako. With remnants of the Malian army, they have since retaken several towns in the north, including the shrine city of Timbuktu.
French President Francois Hollande has said he wants to get French forces out quickly but will stay "as long as it takes". Hollande and US Vice-President Joe Biden said this week they want a quick transition to a UN force.
The UN mission could be given an initial mandate of 12 months, said one UN diplomat, speaking on condition of anonymity because of ongoing negotiations.
"But clearly this cannot be sorted out in that time. There are major problems between the government and the Tuaregs, so the UN will be there for several years," the diplomat said.
A European Union official in Brussels said, "It's going to take years to achieve the end outcome. But I hope it will only take months to achieve a secure enough environment." EU military trainers are expected to start arriving in Mali next week.
Hollande said France may start pulling out its troops from the military intervention in Mali at the end of March.
French government spokeswoman Najat Vallaud-Belkacem told a Cabinet meeting on Wednesday that Hollande "confirmed that if all goes as planned, by the end of March the number of French troops engaged in Mali can begin to diminish".
Vallaud-Belkacem said the pullout will depend on an increase in the deployment of African forces, who are meant to take over the international effort to secure Mali and help its weak army keep the peace.
West African nations have already offered more than 7,000 troops to a force for Mali, which is only slowly gathering in Bamako.
Many could be used in the UN force, but Security Council talks so far have focused on a force of about 5,000, diplomats said.
If the 15-member Security Council holds a vote by the end of February, the UN estimates it will take another 45 to 60 days to get the African force placed under full UN command.
By that time, the remaining rebel strength will be clearer but Mali will then be into its hot and rainy season.
Diplomats said France has yet to decide whether it will put troops in the UN force. It could also maintain a military presence in Mali alongside UN troops, as it does in Cote d'Ivoire, where it played a key role in ending unrest in 2011.
Mandate questioned
Mali's transitional government has opposed a UN force, questioning the mandate it will perform. But Western diplomats say this resistance is weakening.
Other African leaders have sought a joint African Union-UN force, as there is in Darfur, Sudan. But some UN officials and Western diplomats say the Darfur force is a bureaucratic nightmare that should not be copied.
Security Council control of the force will allow the powers to place a maximum level on the force. "We need to improve the quality and reduce the numbers," said a second UN diplomat.
The United States and European nations have insisted that any UN mission have a strong political element.
French troops clashed with Islamist extremists firing rocket launchers outside the north Malian city of Gao, France's defense minister said on Wednesday.
Jean-Yves Le Drian also said several hundred Jihadist fighters have been killed and "large" destruction of weapons has taken place, giving the first indication of the scope of the combat, in an interview on Tuesday on France's BFM TV.
On Wednesday, on Europe-1 radio he said, "It's a real war. ... When we go outside the center of cities that have been taken, we meet residual jihadists."
Gao has been held by French-led forces since late January, and Tuesday's clashes highlight complications for the intervention.
Le Drian said French aircraft are continuing strikes every night on suspected militants' arms depots and mine-making sites. On the ground, troops have found war materiel, weapons manuals and makeshift laboratories for making improvised devices like roadside bombs.