Chinese military delegation joins Aero India show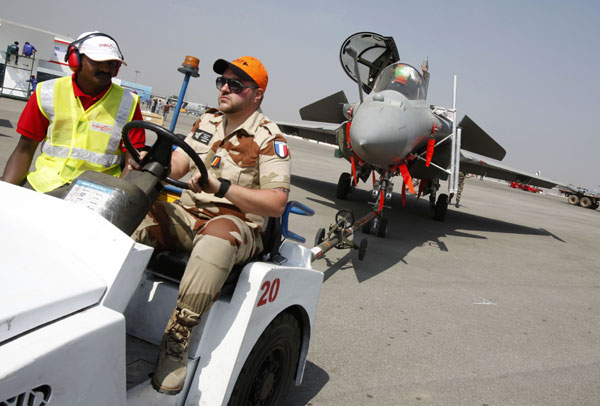 The Rafael, a French twin-engine fighter aircraft, is towed on the eve of Aero India 2013 at Yelahanka air base in Bangalore on Tuesday. Aviation companies from around the world are expected to take part in the five-day event, which opened on Wednesday. [Photo/Agencies]
Beijing confirmed a delegation from Chinese air forces joined the 9th Aero India show in Bangalore on Wednesday at the invitation of India.
China has participated in the air show several times, the Ministry of National Defense's bureau for press affairs told China Daily.
The attendance of the five-person Chinese delegation, lead by Air Vice-Marshal Zheng Yuanlin, is a sign of improved military relations between the neighbors whose ties are often strained, AFP reported.
The last Aero India in 2011 saw India snub China along with Pakistan amid a spike in tensions, but the Chinese ambassador in New Delhi was allowed to attend in a negotiated compromise, it said.
China's participation in the show is the latest attempt by both sides to improve relations, which have been warming since last year, observers said. But India, with its growing military strength, can hardly drop its caution about China.
Fu Xiaoqiang, an expert on South Asian studies at the China Institutes of Contemporary International Relations, said given that India is unlikely to introduce Chinese military hardware, the main purpose of its invitation is to enhance ties through strengthening exchanges and understanding.
The two countries agreed to resume joint military exercises in September following the first visit of a Chinese defense minister to New Delhi in eight years.
The last exercises took place in 2008, and cooperation was called off in 2010 after China refused a visa to an Indian commander stationed in the disputed region of Kashmir.
More than a dozen rounds of talks have been launched to resolve their border disputes, which led to a brief war in 1962.
The largest air show in Asia, as the organizers claim, aims to demonstrate and ramp up India's military buildup amid slowing or shrinking defense budgets in the West, said experts. Competition with China may also be a factor.
The Stockholm International Peace Research Institute said in March 2011 that India received 9 percent of global arms transfers from 2006 to 2010, making it the world's largest importer of weapons.
About 80 organizations and 700 domestic and foreign aerospace manufacturers are taking part in the five-day biannual event.
The event will project India's emergence as a fast-growing and an attractive market, as well as a key outsourcing hub for global aerospace firms, Press Trust of India quoted Indian Defense Minister A K Antony as saying on Wednesday.
"There are big opportunities for major international aerospace companies to enter new alliances and forge partnerships with Indian industry and set up bases in India," he said.
India, as an emerging economy, has the need and finances to develop its military, but its heavy reliance on imports reveals its deficiency on independent innovation, said Ma Jun, a researcher at the Academy of Military Science of the People's Liberation Army.
New Delhi is seeking to boost innovation by encouraging technology transfers and sector industries to become active partners in its military productions, he said.
AFP contributed to this story.
zhaoshengnan@chinadaily.com.cn