65 people executed in Syria's Aleppo
BEIRUT - At least 65 people were found shot dead with their hands bound in the northern Syrian city of Aleppo on Tuesday in a "new massacre" in the near two-year revolt against President Bashar al-Assad, activists said.
Opposition campaigners blamed the government but it was impossible to confirm who was responsible. Assad's forces and rebels have been battling in Syria's commercial hub since July and both have been accused of carrying out summary executions.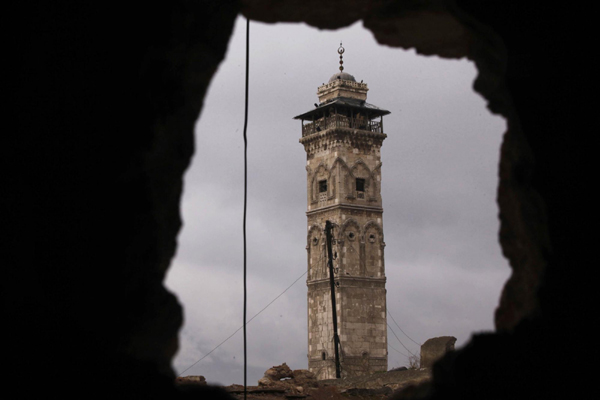 A view of the minaret of the Great Mosque in old Aleppo, Jan 29, 2013. [Photo/Agencies] 
UN-Arab League mediator Lakhdar Brahimi told the UN Security Council "unprecedented levels of horror" had been reached in Syria, and that both the government and rebels had committed atrocious crimes, diplomats said.
He appealed to the 15-nation council to overcome its deadlock and take action to help end the civil war in which Syria is "breaking up before everyone's eyes".
More than 60,000 people are estimated to have been killed in the war, the longest and deadliest of the revolts that began throughout the Arab world two years ago.
The UN refugee agency said the fighting had forced more than 700,000 people to flee. World powers fear the conflict could envelop Syria's neighbors including Lebanon, Jordan and Turkey, further destabilising an already explosive region.
Opposition activists posted a video of at least 51 muddied male bodies alongside what they said was the Queiq River in Aleppo's rebel-held Bustan al-Qasr neighbourhood.
The bodies had what looked like bullet wounds in their heads and some of the victims appeared to be young, possibly teenagers, dressed in jeans, shirts and trainers.
Aleppo-based opposition activists who asked not to be named for security reasons blamed pro-Assad militia fighters.
They said the men had been executed and dumped in the river before floating downstream into the rebel area. State media did not mention the incident.
The British-based Syrian Observatory for Human Rights, which says it provides objective information about casualties on both sides of Syria's war from a network of monitors, said the footage was evidence of a new massacre and the death toll could rise as high as 80.
"They were killed only because they are Muslims," said a bearded man in another video said to have been filmed in central Bustan al-Qasr after the bodies were removed from the river. A pickup truck with a pile of corpses was parked behind him.