Nations count their dead from Algeria attack
Algeria's government said on Sunday the militants killed in the assault on the desert gas plant had six different nationalities.
The official APS News Agency cited Communications Minister Mohamed Said as saying they were from Arab, African and non-African countries, but did not provide further details. The Interior Ministry said on Saturday 32 militants had been killed.
Meanwhile, veteran jihadist Mokhtar Belmokhtar has claimed responsibility in the name of al-Qaida for the mass hostage-taking and called on France to halt airstrikes in Mali, Mauritanian news website Sahara Media said on Sunday.
"We in al-Qaida announce this blessed operation," Belmokhtar said in a video, according to Sahara Media. "We are ready to negotiate with the West and the Algerian government provided they stop their bombing of Mali's Muslims."
Sahara Media did not display the video itself on its site and it was not immediately possible to verify the information.
Up to 6 Britons dead
Three British nationals have been confirmed killed during the hostage crisis at a gas plant in Algeria, and a further three Britons along with a resident of Britain are believed to have died, British Prime Minister David Cameron said on Sunday.
Islamist militants seized the remote compound in the Sahara before dawn on Wednesday, taking a large number of hostages. Details are still emerging of what happened when the Algerian army launched an assault to end the siege on Saturday.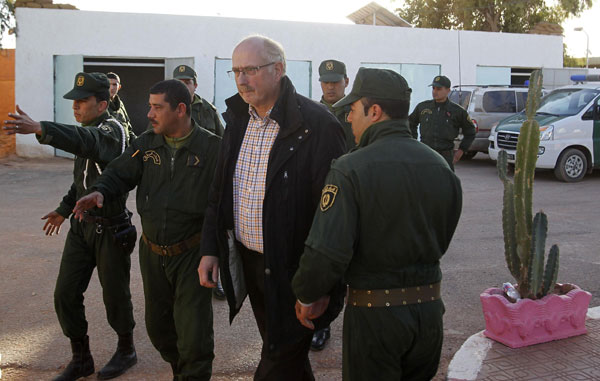 Algerian police escort a freed Norwegian hostage (center) at a police station at In Amenas on Saturday. [Photo/Agencies]