France bombs Mali rebels, African states ready troops
BAMAKO/PARIS - French aircraft pounded Islamist rebels in Mali for a second day on Saturday and neighbouring West African states sped up their plans to deploy troops in an international campaign to prevent groups linked to al Qaeda expanding their power base.
France, warning that the control of northern Mali by the militants posed a security threat to Europe, intervened dramatically on Friday as heavily armed Islamist fighters swept southwards towards Mali's capital Bamako.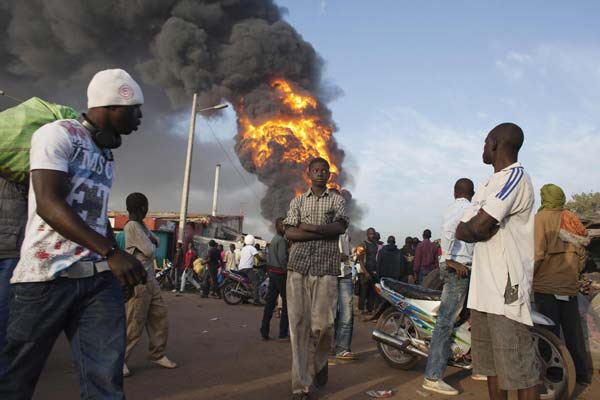 Onlookers walk past a fire at Ngolonina market in the Malian capital of Bamako, January 12, 2013. The fire was started after an accident at a gasoline depot. French forces carried out a second day of air strikes against Islamist rebels in Mali on Saturday and sent troops to protect the capital Bamako in an operation involving several hundred soldiers, Defence Minister Jean-Yves Le Drian said. [Photo/Agencies]
Under cover from French fighter planes and attack helicopters, Malian troops routed a rebel convoy and drove the Islamists out of the strategic central town of Konna, which they had seized on Thursday. A senior army officer in the capital Bamako said more than 100 rebel fighters had been killed.
A French pilot died on Friday when rebels shot down his helicopter near the town of Mopti. Hours after opening one front against al Qaeda-linked Islamists, France mounted a commando raid to try to rescue a French hostage held by al Shabaab militants in Somalia, also allied to al Qaeda, but failed to prevent the hostage being killed.
French President Francois Hollande made clear that France's aim in Mali was to support the African troop deployment.
"We've already held back the progress of our adversaries and inflicted heavy losses on them," he said. "Our mission is not over yet."  
A resident in the northern city of Gao, one the Islamists' strongholds, reported scores of rebel fighters were retreating northward in pickup trucks on Saturday.
"The hospital here is overwhelmed with injured and dead," he said, asking not to be identified for fear of reprisals.  
In Konna, a shopkeeper reported seeing scores of dead Islamist fighters piled in the streets, as well as the bodies of dozens of uniformed soldiers.
With Paris urging West African nations to send in their troops quickly, Cote d'Ivoire President Alassane Ouattara, chairman of the regional bloc ECOWAS, kick-started a U.N.-mandated operation to deploy some 3,300 African soldiers.  
TROOPS BY MONDAY
The mission had not been expected to start until September.
"By Monday at the latest, the troops will be there or will have started to arrive," said Ali Coulibaly, Cote d'Ivoire's African Integration Minister. "Things are accelerating ... The reconquest of the north has already begun."
The multinational force is expected to be led by Nigerian Major-General Shehu Abdulkadir and draw heavily on troops from West Africa's most populous state. Burkina Faso, Niger and Senegal each announced they would send 500 soldiers.
French army chief Edouard Guillaud said France had no plan to chase the Islamists into the north with land troops, and was waiting for ECOWAS forces. France has deployed some special forces units to the central town of Mopti and sent hundreds of soldiers to Bamako in "Operation Serval" - named after an African wildcat.
Concerned about reprisals on French soil, Hollande announced he had instructed Prime Minister Jean-Marc Ayrault to tighten security in public buildings and on public transport in France.
Hollande's intervention in Mali could endanger eight French nationals being held by Islamists in the Sahara. A spokesman for one of Mali's rebel groups, Ansar Dine, said there would be repercussions.
"There are consequences, not only for French hostages, but also for all French citizens, wherever they find themselves in the Muslim world," Sanda Ould Boumama told Reuters. "The hostages are facing death."
The French Defence Ministry said its failed bid on Friday night to rescue a French intelligence officer held hostage in Somalia since 2009 was unrelated to events in Mali.
The ministry said it believed the officer had been killed by his captors along with at least one French commando. But the Harakat Al-Shabaab Al-Mujahideen insurgent group that was holding Denis Allex said he was alive and being held at a location far from the raid.