Program promotes Chinese culture in Uganda
Hundreds of residents in Kampala, Uganda's capital, gathered at the Railway Ground in the city's downtown and hailed performances by a visiting Chinese acrobatic troupe on the evening of Sept 27.
The open-air performance attracted such a large crowd that more than half of them had to sit on the grass or stand throughout the show.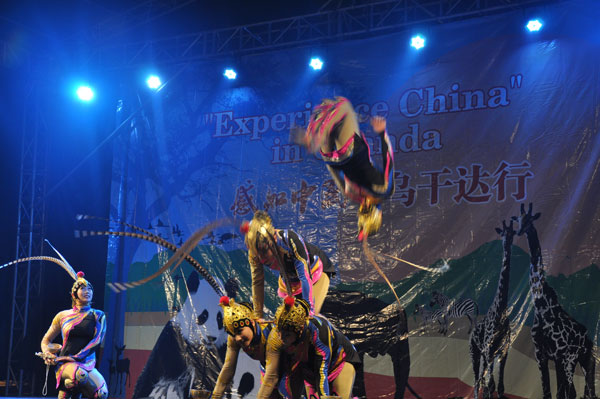 An acrobatic show is held on Sept 27 in Kampala by a visiting Chinese troupe, who are members of a Chinese cultural exchange program delegation, called Experience China in Uganda. [Photo/chinadaily.com.cn]
It was one of the two cultural shows included as part of Experience China in Uganda, a large cultural exchange program initiated by the Chinese State Council's Information Office.
The program — co-organized by the Ugandan Ministry of Gender, Labor and Social Development — intends to facilitate the understanding of modern China and Chinese culture among the Ugandan public.
Zhao Yali, the Chinese Ambassador to Uganda, and Zhang Yanbin, a bureau director from the information office and head of the Chinese delegation for the program, addressed the audience.
Several senior Ugandan government officials, including Uganda's second deputy prime minister and minister of public service Henry Kajura, were also present.
"The show is amazing. Basically what I've seen here I have seen on TV or in movies, but I didn't think it's real," said Stella Mbabazi, an administrator from a local media company, after the show.
"There might be a lot of other people like me, who have seen everything about China on TV. But if we see it live like now, our perceptions can be changed totally, and we can learn to appreciate Chinese culture more and more," added Mbabazi, who was both impressed by the acrobatics jujitsu demonstration of a young girl and the performers' dresses.
According to her, the program is a good opportunity for Ugandan people, who have yet limited opportunities to enjoy live shows like this, to find what Chinese culture has to offer.
"I think it's good to share, compare and appreciate different cultures," Mbabazi said. "There are many unique things about Chinese culture. I hope to see more of these shows."
A second acrobatic show is planned for Sept 28 at the National Theater of Uganda.
The exchange program is held around the celebrations of the Golden Jubilee of Uganda Independence and the 50th anniversary of China-Uganda diplomatic relations this year.