18 shot at platinum mine conflict in South Africa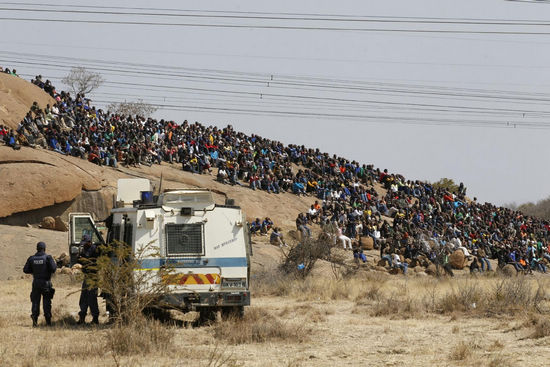 Policemen keep watch on the protesters outside a South African mine in Rustenburg, 100 km (62 miles) northwest of Johannesburg, August 16, 2012. [Photo/Agencies]
JOHANNESBURG - At least 18 people were shot and feared dead or injured at a platinum mine conflict in South Africa on Thursday, local media reported.
The shooting took place at 04:00 pm as police attempted to disperse armed striking miners at Lonmin's Marikana mine in the northern province of the North West, the South African Press Association (SAPA) quoted police as saying.
A witness claimed to have seen 18 bodies lying on the ground.
Paramedics attended to those hit during the shoot-out between police and armed miners, report said.
Lonmin is reportedly the world's third largest platinum producer with approximately 28,000 employees, and its operational headquarters is in Johannesburg, South Africa.
The miners had gathered on a hill at the mine since Monday, demanding the improvement of their working condition by raising their monthly salary from current about 4,000 to 12,500 rands (about $480 to $1,500).
The hill where the protesting miners gathered was cordoned off by police, and two helicopters were flying over the area.
Before the shooting happened, an ultimatum was issued by police for the protesting miners to come down from the hill and go home peacefully and surrender their weapons.
Early on Thursday, the Longmin company issued a warning to striking miners to return to work within 24 hours or face dismissal.  
Police on the scene said miners shot at them first before they opened fire, according to the report.
Last Friday, about 3,000 drilling miners at the mine started protests, demanding a 12 percent wage increase. However, the protests turned into violence in the following days.
Up to Wednesday, the violence at the Marikana mine has claimed 10 lives, including two police officers, two security guards, three protestors and three other men.