Prosecutors demanding Egyptian ex-President death penalty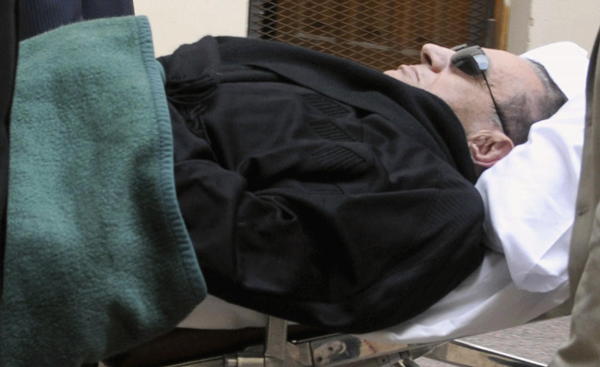 Former Egyptian President Hosni Mubarak lies on a stretcher while being transported to the courtroom at the police academy in Cairo January 5, 2012. Egyptian prosecutors sought on Wednesday to prove Mubarak guilty of responsibility for the killings of protesters during the 2011 uprising, saying he had authorised the use of force. [Photo/Agencies]
CAIRO - The Cairo Criminal Court continued the trial of former President Hosni Mubarak and ten others on Thursday, with prosecutors demanding Mubarak being sentenced with death penalty for killing of protestors.
Mubarak's arrival at the court was delayed for about two hours due to the foggy weather. He was flown by a helicopter to the Cairo Police Academy where the trial is held, from the International Medical Center in the eastern suburbs of the capital.
The prosecutors continued their statements for the third and last day given to them by the court panel in Mubarak's trial.
Over the past two days, the prosecutor accused Mubarak of being a tyrannical leader who promoted corruption in Egypt. The prosecutor also said that the interior ministry and the national security agency were uncooperative, according to official news agency MENA.
The trial lasted about three hours and adjourned till January 9 and 10.
The 83-year-old former president, former minister of interior Habib el-Adli and Adli's six aides face charges of ordering and complicity in killing protestors. Meanwhile, Mubarak, his two sons Alaa and Gamal and fugitive businessmen Hussein Salem are accused of corruption, profiteering, and exporting gas to Israeli in cheap prices.
The defendants have appeared at court several times since their trial began on August 3, 2011. Head of the ruling Supreme Council of the Armed Forces (SCAF) Hussein Tantawi and former vice president Omar Suleiman have testified in previous sessions.
The trial had been postponed as some plaintiff lawyers demanded the change of presiding judge Ahmed Refaat. The appeal, however, was rejected by Cairo's Court of Appeals on December 7, 2011.