Liberian incumbent president wins run-off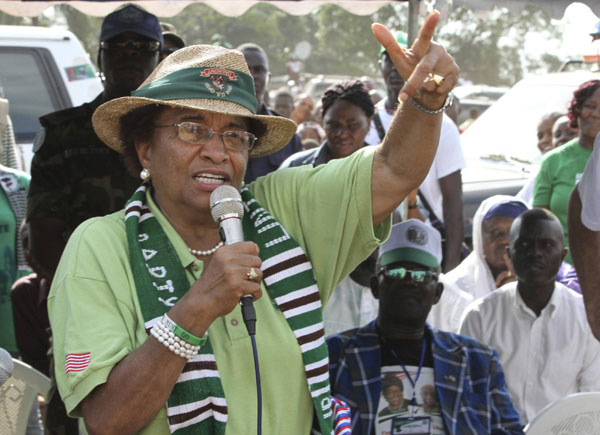 Ellen Johnson-Sirleaf speaks during a last electoral campaign rally in Monrovia November 6, 2011.[Photo/Agencies]
MONROVIA - Liberian incumbent President Ellen Johnson-Sirleaf had won the run-off election, according to the preliminary results announced by the National Election Commission on Thursday afternoon.
According to the results, Johnson-Sirleaf from the ruling Unity Party got 513,320 votes, which constitutes 90.8 percent of the total votes. Her rival Winston Tubman from the opposition party Congress for Democratic Change (CDC), got 52,071 votes, which constitutes 9.2 percent.
With 4,457 polling places across the country, 3,859 have been counted and tallied. The turnout of the run-off is 37.4 percent.  
Sirleaf's main challenger, Winston Tubman boycotted the polls citing frauds and called for recount of the votes cast in the first round as precondition to his participation.
Tubman's boycott action to some extend had a negative effect on the turnout on polling day.
Addressing a news conference this afternoon, Acting National Election Commission Chairman Elizabeth Nelson disclosed that voting was peaceful and the electoral body was successful in implementing their mandate.
"Because the run-off election was one election with only two candidates in the race, the tally process is also proceeding much faster than during the October 11, 2011 presidential and legislative elections," Madam Nelson noted.
Meanwhile, Nelson said that the demonstration by CDC was not against the electoral laws of Liberia.
She said CDC action is a security issue that has no bearing on the electoral process.  
In a related issue, the electoral body has dismissed the only electoral fraud claim from CDC based on lack of evidence. CDC is expected to file the case to the Supreme Court not later than seven days.
The first round of ballot on October 11 in which 16 parties participated, did not produce a clear winner, leaving only Sirleaf and Tubman for the second round on November 8.
Tubman announced on November4 that his party would not participate in the run-off, claiming that the electoral commission was already biased.
Election observers from the Carter Center, a non-governmental organization,  on Thursday called on parties concerned with the recent run-off election in the fragile Liberian state to accept poll results expected to be released soon.
Carter Center, through its election observation mission, headed by former Nigerian military leader Yakubu Gowon, called for calm, respect and acceptance of the results for peace in Liberia at a press conference on Thursday afternoon.