Gadhafi buried in unknown place: TV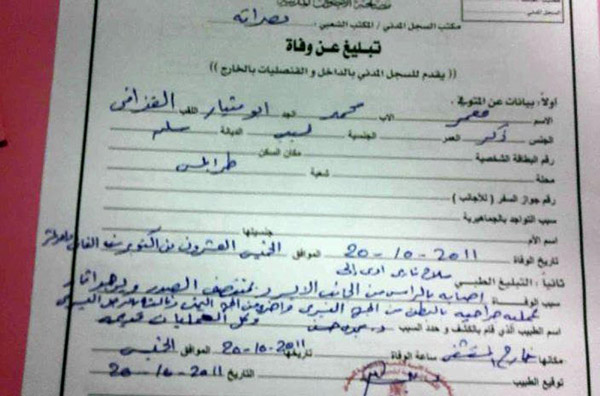 The death certificate of Muammar Gaddafi is seen in Misrata October 21, 2011. The certificate reads, "Civil Record Office Popular Office: Misrata, Informing of a Death, Name: Moammar, Father: Mohammed, Grandfather: Abu Mithyar, Surname: Gaddafi, Sex: Male, Nationality: Libyan, Religion: Muslim, Branch: Tripoli, Date of Death: 20-10-2011 which comes on Thursday October 20, Medical Report: A firing weapon which led to an injury to the left of the head as well as the middle of the chest. There is also evidence of a surgery to the abdominal on the left side, another on the right hand side and a third on the left leg, All surgeries are old, Name of doctor who performed the examination and identified the cause: Majdi Hassan, Place: outside the hospital, Date: 20-10-2011 Thursday". Picture taken October 21, 2011. [Photo/Agencies]
TRIPOLI - Former Libyan leader Muammar Gadhafi and his son Mutassim were buried early Tuesday morning at a secret location in the desert, Al-Jazeera television reported, quoting an official of the ruling Libyan National Transitional Council (NTC).
A few members of the ousted Libyan leader's tribe were allowed to pray and perform a religious ceremony before the bodies of Gadhafi and Mutassim taken away from a market place in the western Libyan city of Misrata, the Doha-based television reported.
The burial took place at about 5 am local time (0300 GMT) and only some local officials and military commanders of Misrata were involved in the event, the report said.
The burial ended a nearly five-day public display of Gadhafi's corpse at a meat storage container in a wholesale market of Misrata. Mutassim's body was also put on show in the container. Misrata had suffered months-long siege by Gadhafi's forces in the country's eight-month-long conflict.
Reuters reported Monday NTC fighters guarding the corpses "placed plastic sheeting under them as fluids leak." The footage of Al Jazeera TV showed Monday that people were still being allowed into the temporary morgue to visit and take photos of the rotting corpses.
Negotiations were reported to have been ongoing between Libya's interim leadership and Gadhafi's tribe and family over where and how to dispose his body.  
Gadhafi's tribe demanded the corpses be handed over to them for a quick burial in Sirte under Islamic traditions. The request was turned down by the NTC, which had been divided on the rite, time and location for Gadhafi's burial.
NTC Chairman Mustafa Abdel Jalil said Monday that in response to international calls, the NTC has started to form a committee to look into the circumstances of Gadhafi's killing after he was captured in Sirte last week.
Jalil said that "those who helped Muammar Gadhafi" have played an effective role in killing him. The NTC chief did not elaborate on his claim.  
Gadhafi, who ruled Libya with an iron grip, and his son Mutassim were captured alive Thursday when NTC forces wrested full control of his hometown of Sirte. But both of them died in murky circumstances shortly after being seized by NTC fighters. Rumors of lynching have been flying around.
On Friday, the United Nations human rights body called for an investigation into how Gadhafi was killed Thursday, after satellite TV channels broadcast a footage of Gadhafi being captured wounded but alive with blood stains on the face and then pushed by fighters onto a truck, and another video later emerged showing Gadhafi's body on the lap of a fighter with a bullet hole in his forehead.
Also aired were images of Mutassim sitting on a mattress, drinking mineral water and smoking a cigarette, after being seized by NTC fighters.
The mysterious clouds hovering over Gadhafi's death have already dented the NTC's credibility. Mishan al-Jbouri, owner of a pro-Gadhafi television channel based in Syria, told Xinhua in an interview that after the whole world saw the ugly way Gadhafi was killed, no country would risk handing the rest of the family to the NTC.