Libya rulers say they seize Gaddafi desert outposts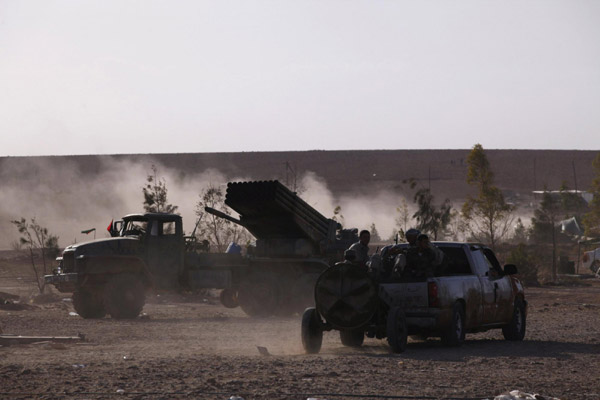 Anti-Gaddafi fighters travel in a pickup truck as they head back from the frontline in the north of the besieged city of Bani Walid September 21, 2011. [Photo/Agencies]
TRIPOLI/NORTH OF BANI WALID, Libya - Libya's interim rulers said on Wednesday they had captured one of Muammar Gadhafi's last strongholds deep in the Sahara desert, finding chemical weapons, and largely taken control of another.
With the National Transitional Council (NTC) struggling to assert full control over the country, military spokesmen said its forces had seized the outpost of Jufra about 700 km (435 miles) southeast of Tripoli, and most of Sabha.
"The whole of the Jufra area - we have been told it has been liberated," spokesman Fathi Bashaagha told reporters in the city of Misrata. "There was a depot of chemical weapons and now it is under the control of our fighters."
His comments could not be confirmed independently. Under Gadhafi, Libya was supposed to have destroyed its stockpile of chemical weapons in early 2004 as part of a rapprochement with the West under which it also abandoned a nuclear programme.
However, the Organisation for the Prohibition of Chemical Weapons says Libya kept 9.5 tonnes of mustard gas at a secret desert location, although it could no longer deliver it.  
Gadhafi loyalists have been holding out in Jufra and Sabha along with the bigger strongholds of Bani Walid, southeast of Tripoli, and Gadhafi's hometown of Sirte since the fall of the capital in August.    
"We control most of Sabha apart from the al-Manshiya district. This is still resisting, but it will fall," said another NTC military spokesman, Ahmed Bani.
CNN, citing a correspondent in Sabha, reported that NTC fighters had occupied its centre on Wednesday after taking the airport and a fort the day before.
NATO countries gave the NTC another boost by extending for three more months the air cover that helped anti-Gadhafi fighters to victory.
However, chaos prevailed among fighters besieging Gadhafi's other two remaining major strongholds. Several attempts by NTC fighters to take Bani Walid and Sirte in the past week have ended in disarray and panicked retreat.