Latest developments in the Libyan conflict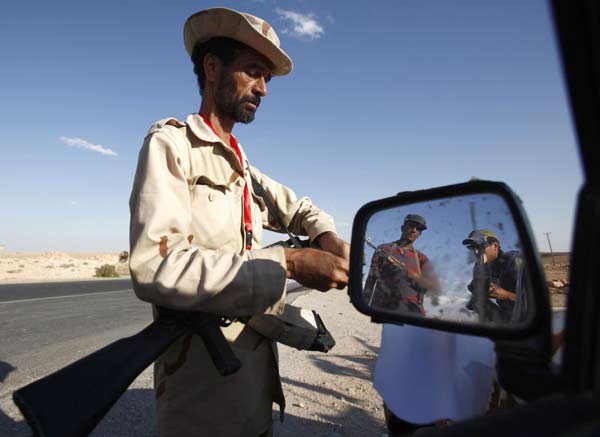 An anti-Gadhafi fighter checks an identification paper as he mans the last checkpoint 1 km from the northern besieged city of Bani Walid Sept 14, 2011. [Photo/Agencies]
Sept 14 - Following are the latest political and military developments in the Libyan crisis.
* French President Nicolas Sarkozy is planning a trip to Libya on Thursday, the French magazine Marianne reported, in what would be the first visit by a foreign head of state since the toppling of Muammar Gaddafi.
* The European Union is concerned about reports of extra-judicial killings and arbitrary detentions by both sides in the Libyan war and especially by the victimisation of sub-Saharan Africans, a statement said on Wednesday.
* Fighters loyal to Libya's new rulers will resort to heavy weapons to capture a desert outpost held by Gadhafi's forces if needed, a military commander said on Wednesday, urging civilians to flee.
* A senior U.S. envoy, visiting Tripoli on Wednesday to show support for Libya's new leaders, said they were getting the country's many armed groups under control and would not end up dominated by Islamist factions.
* Gadhafi himself has not been seen in public since June. His fugitive spokesman, Moussa Ibrahim, speaking on a satellite phone, told Reuters the 69-year-old leader was still in Libya, in good spirits and gathering his forces for a fightback.
* NATO said it conducted 122 air sorties on Tuesday,  44 of them strike sorties to identify and hit targets. It said key targets hit included:
-- in the vicinity of Sirte: one command and control node, one multiple rocket launcher, two anti-aircraft guns, one armed vehicle, four radar systems
-- near Waddan: seven anti-aircraft guns#
-- in the area of Zillah: one armed vehicle
* Since NATO took command of air strikes on March 31, its aircraft have conducted  22,578 sorties including 8,471 strike sorties. NATO members participating in air strikes include France, Britain, Canada, Denmark, Belgium, Italy and the United States.
* Fourteen ships under NATO command are patrolling the central Mediterranean Sea to enforce a U.N. arms embargo. On
Tuesday, 15 vessels were hailed to determine destination and cargo. Six were boarded but none diverted.
* A total of  2,619  vessels have been hailed, 281 boarded and 11 diverted since the start of the arms embargo.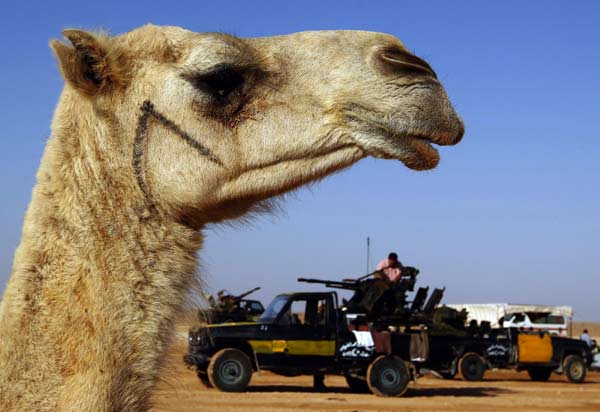 A camel is seen next to anti-Gadhafi fighters near the town of Abu Grein, about 160 km (99.4 miles) west of Sirte, one of Muammar Gadhafi's last remaining strongholds, Sept 14, 2011. [Photo/Agencies]