Latest developments in the Libyan conflict
Following are the latest political and military developments in the Libyan crisis.
* China recognised the National Transitional Council (NTC) as Libya's ruling authority.
* A Syrian television station that has broadcast messages from Muammar Gadhafi in the past said the fugitive Libyan leader was still in Libya, but it was unable to air his latest message for security reasons.
* Gadhafi urged Libyans not to give in to those he said were colonising the North African country, the Syrian channel Arrai reported in a message read out by the channel's owner.
* Gadhafi loyalists attacked an oil refinery, killing 15 guards in an apparent attempt to disrupt a drive by Libya's new rulers to seize the ousted leader's last bastions and revive the oil-based economy.
* Some 32 people close to Gadhafi have fled to neighbouring Niger in 10 days, Al Arabiya television reported on Monday, citing Niger government sources.
* The NATO bombing campaign which fatally weakened Gadhafi's rule had a secret asset: a 24-year-old Libyan woman who spent months spying on military facilities and passing on the details to the alliance.
* An explosion damaged an ammunition depot and set off a fire at a military camp on the southern outskirts of the Libyan capital Tripoli on Monday, residents and officials said.
* Italian oil group Eni is aiming to restart gas exports from Libya to Italy through its Greenstream pipeline by October or November, its chief executive told Reuters.
* Libyan oil firm the Arabian Gulf Oil Company (Agoco) said on Monday it has restarted production at the eastern oilfield of Sarir in an early sign the industry is coming back to life after six months of war.
* Secret informants and tribal frictions have stalled efforts by Libyan interim government troops to establish control over one of Gadhafi's last remaining bastions of resistance.
* Gadhafi's son Saadi entered Niger on Sunday, Niger's justice minister said.
* Libya has started producing oil again, the country's interim prime minister said on Sunday, promising that more of it would come online in the "near future".
* Bouzaid Dorda, the head of Gadhafi's external security organisation, has been arrested by anti-Gadhafi fighters, Reuters witnesses said on Sunday.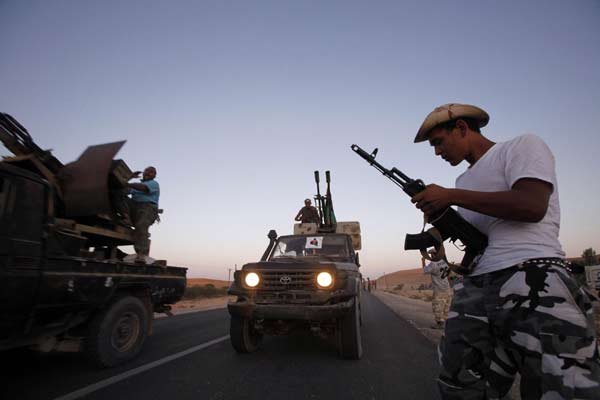 Anti-Gadhafi fighters drive back from the frontline in Bani Walid September 12, 2011. Forces of Libya's new rulers met "ferocious" street-by-street resistance during an assault on one of the last bastions loyal to Muammar Gadhafi, but were edging towards the ousted ruler's birthplace of Sirte. [Photo/Agencies]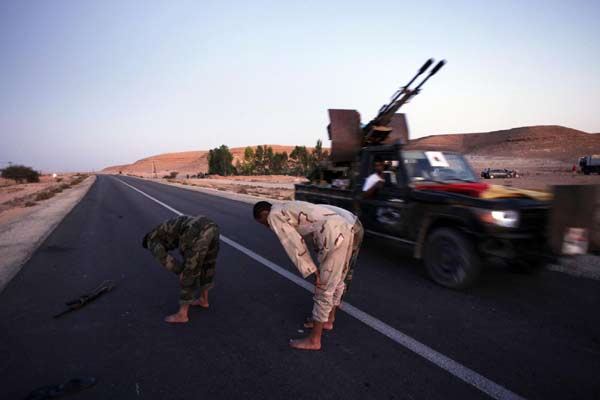 Anti-Gadhafi fighters pray near the north of the besieged city of Bani Walid September 12, 2011.[Photo/Agencies]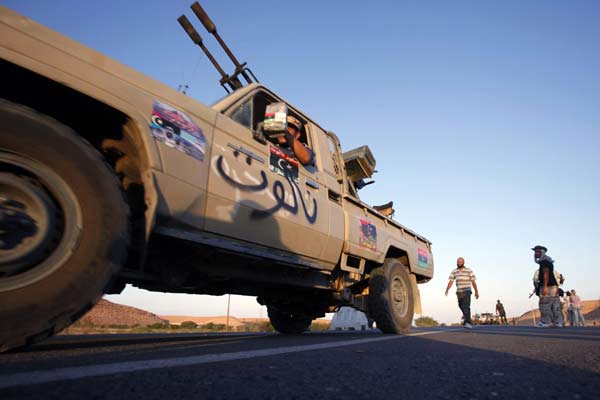 Anti-Gadhafi fighters drive back from the front line in Bani Walid September 12, 2011. [Photo/Agencies]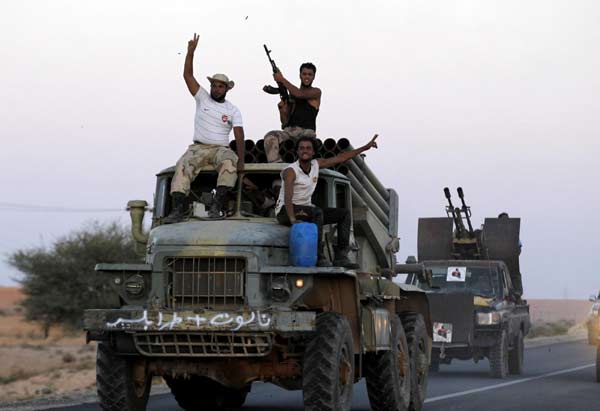 Anti-Gadhafi fighters cheer and shoot in the air as they drive a Grad multiple rocket launcher they said they had captured from pro-Gadhafi forces in the Libyan city of Bani Walid September 12, 2011. [Photo/Agencies]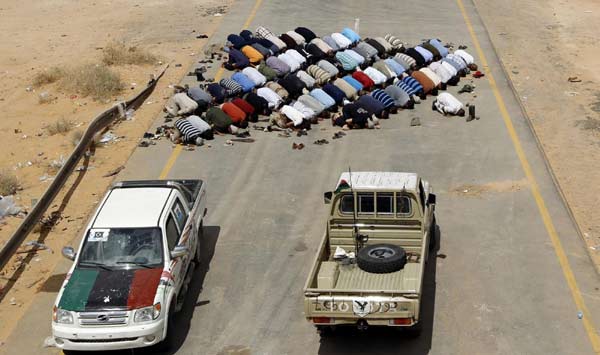 Anti-Gadhafi fighters pray at a checkpoint near the town of Abu Grein, some 160 km (100 miles) west of Sirte, one of Muammar Gadhafi's last remaining strongholds September 12, 2011. [Photo/Agencies]