Libya's NTC chairman arrives in Tripoli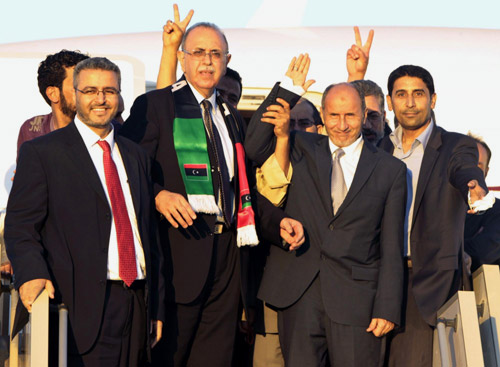 National Transitional Council (NTC) head Mustafa Abdul Jalil (2nd R) waves upon his arrival at Mitiga airport in Tripoli September 10, 2011. [Photo/Agencies]
TRIPOLI - Chairman of Libya's National Transitional Council Mustafa Abdel Jalil arrived in Tripoli on Saturday evening for the first time since fighting broke out between rebels and government troops six months ago.
Chairman of the NTC executive office Mahmoud Jibril, together with several other council members, received Jalil at a military airport in eastern Tripoli.
It is the first time for Jalil to visit Tripoli since the rebels took control of the capital last month.
The NTC would move its headquarters to Tripoli and only a branch of it would stay in the eastern rebel bastion of Benghazi, Jalil said earlier this month.
After six months of fighting, the rebels have taken control of most areas of the North African country and prepared to enter the last strongholds of toppled leader Muammar Gaddafi, including Bani Walid near the capital, Sirte on the Mediterranean coast and Sabha deep in the Sahara desert.