Rebel chief: Gadhafi remains a threat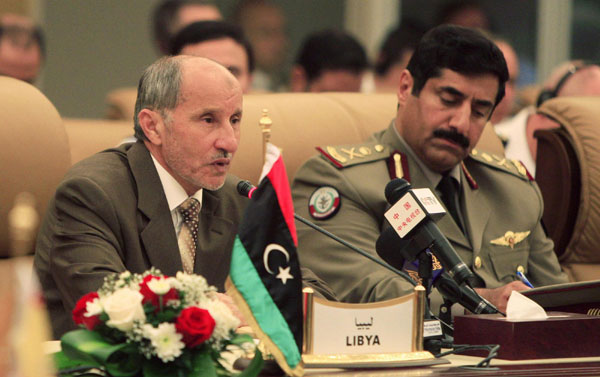 Mustafa Abdel Jalil, Chairman of the National Transitional Council of Libya, (L) speaks next to Qatar's Armed Forces Chief of Staff Major-General Hamad bin Ali Al-Attiyah during a meeting of chiefs of staff of countries militarily involved in Libya, in Doha August 29, 2011. [Photo/Agencies]
DOHA - Muammar Gadhafi is still a threat to Libya and the world, as his whereabouts remain misty, chief of the executive board of the Libyan National Transitional Council (NTC) Mostafa Abdel Jalil said here Monday.
At a meeting, held in the Qatari capital of Doha, of senior military figures from countries participated in the military actions in Libya in the past months, Jalil called on the coalition to further help and support the North African nation, as no concrete information about the whereabouts of the embattled Libyan leader and his sons were currently available.
The rebel fighters captured last Tuesday Gaddafi's Bab al- Azizya compound in the capital Tripoli, but Gadhafi had already withdrawn "tactically."
Analysts say the large amount of missiles, and chemical weapons reportedly possessed by Gadhafi's forces, including over 10 tons of mustard gas (estimated by the United States), could be a peril.
On Sunday, Libyan rebels had said that over 10,000 prisoners arrested by Gadhafi's government had been freed since the rebel forces took control of Tripoli, but about 50,000 prisoners were still missing. Rebel military spokesman Col. Ahmed Bani said it would be "catastrophic" if it turned out that they had already been killed after being arrested.
The rebels had on Saturday vowed fair trials for those having worked with Gadhafi, and said the reward for killing or capturing the fallen leader could be increased.
The rebels are reportedly preparing attacks on Monday to capture Gadhafi's hometown of Sirte.