Libya NTC to move headquarters to Tripoli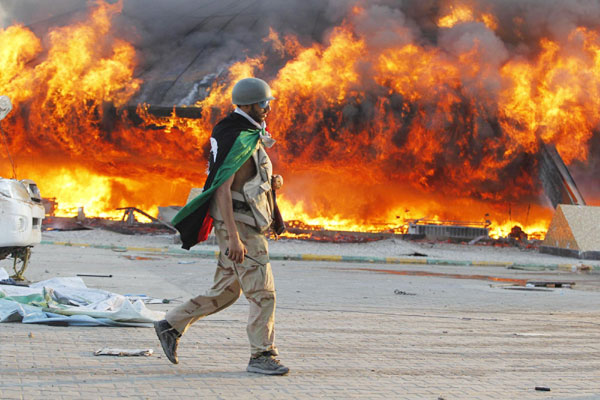 A Libyan rebel walks in the Bab Al-Aziziya compound in Tripoli August 23, 2011. Joyful Libyan rebels overran Muammar Gaddafi's Tripoli bastion on Tuesday.[Photo/Agencies]
TRIPOLI - Libyan rebels stormed into Muammar Gaddafi's Bab al-Azizya compound in Tripoli and seized the Libyan leader's house inside the vast barracks, Al-Jazeera television reported.
TV footage showed that the rebels were firing into the air inside the heavily-fortified compound in celebration after breaking into the first gate of the compound.
Plumes of black smoke were seen rising from inside the compound and loud explosions were resounding across the capital city. Pro- Gaddafi forces have been engaged in fierce clashes with the rebel fighters across the capital city.
The advance of the rebels was slowed inside Bab al-Azizya compound due to resistance of snipers, the television reports said.
Earlier reports on Tuesday by Arab television Al-Arabiya said NATO fired two rockets at Bab al-Azizya and destroyed parts of the wall circling the heavily-fortified compound. The reports quoted a rebel official as saying that the rebel forces "are trying to enter the fortified stronghold through the Old Gate on the western side."
There is no clear information about the whereabouts of embattled Gaddafi, who has ruled the oil-rich North African nation for over four decades. But Kirsan Ilyumzhinov, head of the Russian chess federation, said Tuesday that Gaddafi told him by telephone that he was still in Tripoli and did not intend to leave the country.
Ilyumzhinov said he received a brief call from Gaddafi and his eldest son Mohammed Tuesday afternoon.
"Mohammed Gaddafi said he is in Tripoli beside his father," Ilyumzhinov told Interfax news agency.
Mohammed claimed in the telephone conversation that the forces loyal to his father were trying to repel the rebels out of the city, Ilyumzhinov said. Then Mohammed passed the phone to his father, who told the chess president that he was "alive and healthy in Tripoli, and not going to leave Libya," Gaddafi was quoted by Ilyumzhinov as saying.
The Libyan leader said he was still confident of winning the war and asked people not to believe "the mendacious reports by Western television companies," said Ilyumzhinov.
Earlier in the day, Saif al-Islam, the well-known son of Gaddafi, made a brief visit to the Rixos hotel housing dozens of foreign journalists, saying his father was still in Tripoli and safe. Ilyumzhinov played chess with Gaddafi when he visited Tripoli in June.
In Washington, a Pentagon spokesman said Tuesday that the Pentagon still believes that Gaddafi had not left the country, although the rebels appeared to have controlled most of the capital Tripoli.
In Brussels, NATO spokeswoman Oana Lungescu said Tuesday that the military alliance would not put boots on the ground and would only play a "supportive" role upon request in the post-Gaddafi Libya.