Oil exports may resume as Libya war close to end
Updated: 2011-08-23 08:28
(Agencies/China Daily)
| | | | | | | | | | | |
| --- | --- | --- | --- | --- | --- | --- | --- | --- | --- | --- |
|   | | Comments() | | Print | | Mail | | Large Medium  Small | 分享按钮 | 0 |
LONDON - Brent crude fell almost $2 on Monday to $106 a barrel with traders and investors anticipating the resumption of oil exports from OPEC-member Libya as a civil war there appeared close to an end.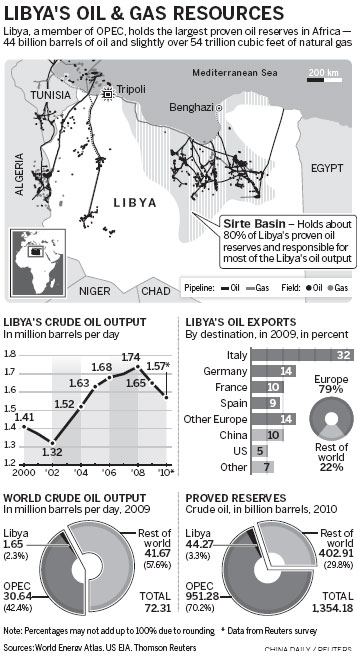 Six months of civil war have left Libya's oil industry in chaos, with fields that once pumped around 1.6 million barrels per day (bpd) deserted and export terminals, pumping stations and pipelines damaged by fighting and sabotage.
But with rebel fighters now in the capital, Tripoli, and the battle for control of the country probably in its final phase, industry executives and analysts said much of the country's oil output could be resurrected within months if peace can be established quickly.
An official working for Libya's Arabian Gulf Oil Company (AGOCO), which has been operating the Sarir and Mesla oilfields under rebel control, said on Friday that output from its area could resume within three weeks.
"Our fields are under maintenance, and we're still waiting for security," Abdeljalil Mayouf, information manager at AGOCO told Reuters. "When the security is OK we will start; perhaps two or three weeks after the improvement in security."
War and other traumas in oil producing nations have typically had a lasting impact on output.
The speed of recovery in oil output depends crucially on how quickly international companies with highly evolved skills can be brought in.
Until the beginning of this year, OPEC member Libya was the world's 17th-largest oil producer and Africa's third largest. But fighting and social disruption have reduced production to less than 100,000 bpd, and exports have stopped altogether.
Oil industry consultancy Wood Mackenzie said it would take around 36 months for the country to recover its full production capacity, from whenever the crisis is resolved. It estimates that substantial oil volumes could be back in the market by late 2012 if a resolution is achieved by the end of this year. But the recovery period will extend if production remains shut-in for longer, as infrastructure continues to deteriorate.
China National Petroleum Corp (CNPC), China's biggest energy company, said it expected to lose 1.2 billion yuan ($187.4 million) this year in its drilling unit after six big projects in Libya and Niger were terminated due to the unrest.
CNPC is the only State-owned oil company invested in Libya, with its major focus on drilling and pipeline construction services. The energy giant said in March that it had evacuated more than 300 Chinese employees from Libya and halted its operations in the North Africa country, without providing detailed loss figures.
"It's difficult to estimate the total loss. CNPC's business in the country will continue to freeze until Libya's situations stabilize, which is still too early to project," said Pang Changwei, director of the Institute for International Oil Politics at the China University of Petroleum in Beijing.
It's not clear how the oil industry will be structured after the civil war ends. Foreign oil firms, essential for the quick resumption of production, have spoken to the rebels at length, but the future of existing contracts with Gadhafi's government is uncertain.
Italy's Foreign Minister Franco Frattini said that the technical staff of ENI, which has operated in Libya since the 1950s and is the biggest foreign oil company in the country, may restart its oil facilities, and he expects the Italian oil producer to play a "No 1 role" in Libya in the future.
Agencies-China Daily
Hot Topics
The European Central Bank (ECB) held a conference call late on Sunday ahead of the market opening, pledging the ECB will step in to buy eurozone bonds with efforts to forestall the euro zone's debt crisis from spreading.