Libya rebels say they control parts of Tripoli
TRIPOLI - Libyan rebels said they had seized control of pockets of Tripoli after a night of fighting, while allied forces advanced on the capital on Sunday, predicting a final showdown with Muammar Gaddafi.
The Libyan leader dismissed the rebels, fighting since February to topple him, as "rats" and said he would not yield.
In a coordinated revolt that rebels have been secretly planning for months to end Gaddafi's 41-year rule, shooting started on Saturday night across Tripoli moments after Muslim clerics, using the loudspeakers on mosque minarets, called people on to the streets.
The fighting inside Tripoli, combined with rebel advances to the outskirts of the city, appeared to signal the decisive phase in a six month conflict.
But Gaddafi's fall is far from certain. His security forces did not buckle as some rebels had predicted. The uprising appeared to be isolated to a few neighbourhoods, and had not spread to the whole city.
If the Libyan leader is forced from power, there are question marks over whether the opposition can restore stability in this oil exporting country. The rebels' own ranks have been wracked by disputes and rivalry.
But at daybreak, more than 12 hours after the fighting first broke out, shooting could still be heard in the capital, though it was less heavy and sustained than during the night.
A Reuters reporter at a hotel in the city centre said she could hear bursts of machine gun fire about every few minutes, and occasional booms from heavy weapons.
"Our revolutionaries are controlling several neighbourhoods and others are coming in from outside the city to join their brothers at this time," Abdel Hafiz Ghoga, vice-chairman of the rebel National Transition Council, told Reuters in the eastern city of Benghazi.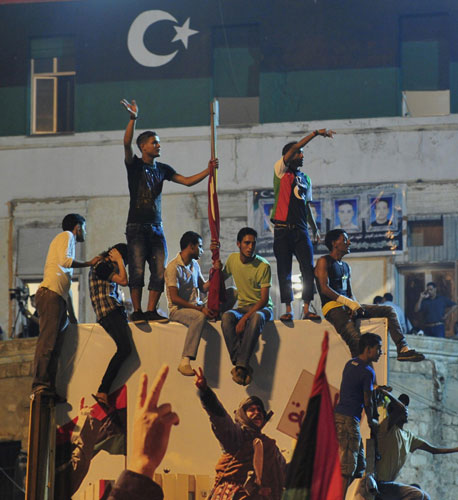 Libyan people gather after hearing the news of the uprising in Tripoli near the courthouse in Benghazi, August 21, 2011. [Photo/Agencies]
Tripoli encircled
Rebel advances outside Libya in the past week tipped the balance of the conflict against Gaddafi, and their ability to march into the city could now decide the outcome of the battle for Tripoli.
"Gaddafi's chances for a safe exit are diminishing by the hour. The more he stays the narrower his base, and the easier it will be for him to be caught or killed," Ashour Shamis, UK-based opposition editor and activist, said. "I think he's not being told the whole picture. (His son) Saif al-Islam is the one who is leading the fight for him."
Gaddafi's whereabouts have been kept secret.
Rebel forces were gathering south of Tripoli, where they told a Reuters reporter they were preparing to attack Al-Aziziyah, a town about 45 km (27 miles) from the city. Another rebel force was trying to advance from Zlitan, about 150 km to the east.
The closest rebel contingent was in Zawiyah, half an hour's drive to the west of Tripoli. Doctors at a clinic on the oustkirts said rebels has pushed 10 km east towards Tripoli and were fighting for control of a town called Jaddaim.
"It was very bloody in Jaddaim today. There are many more casualties at other hospitals," said a doctor at the clinic, where three dead rebels had been brought by mid-morning on Sunday. The sound of artillery fire could be heard coming from the direction of the front line.  
In Tripoli itself, the two sides appeared to be jockeying for control of rooftop terraces where they could place firing positions, possibly in preparation for a new burst of fighting after nightfall.  
A rebel activist in Tripoli said pro-Gaddafi forces had put snipers on the rooftops of buildings around Bab al-Aziziyah, Gaddafi's compound, and on the top of a nearby water tower.
As he spoke, single gunshots could be heard in the background, at intervals of a few seconds.
"Gaddafi's forces are getting reinforcements to comb the capital," said the activist, who spoke to a Reuters reporter outside Libya.  
"Residents are crying, seeking help. One resident was martyred, many were wounded," he said. It was not immediately possible to verify his account independently.
State television flashed up a message on the screen urging residents not to allow rebel gunmen to hide out on their rooftops.  
"Agents and al Qaeda members are trying to destabilise and sabotage the city. You should prevent them from exploiting your houses and buildings,  confront them and cooperate with counter-terrorism units, to capture them," it said.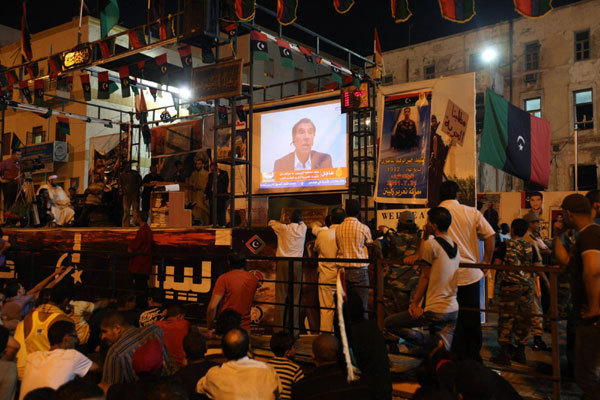 People watch a speech by Libyan defector Abdul Salam Galod, a dissident of Muammar Gadhafi, near the courthouse in Benghazi, August 21, 2011. [Photo/Agencies]