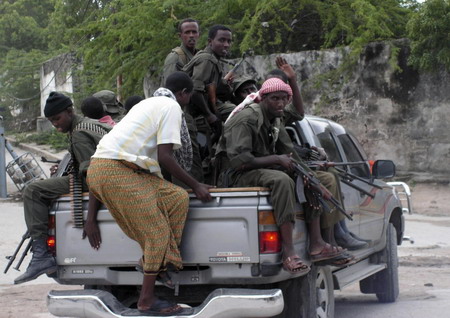 Somali government troops patrol outside the presidential palace in Mogadishu, August, 10, 2009. [Agencies]
MOGADISHU, Somalia: Gunmen stormed a U.N. aid compound in Somalia overnight, sparking a gunbattle that killed three of the attackers and wounded one, the agency said Monday.
The attack started when up to 10 gunmen opened fire on guards who refused to let the men into the U.N.'s World Food Program compound in Wajid, an aid base in southern Somalia, said Peter Smerdon, a spokesman for WFP. The guards returned fire and the gunbattle lasted about 15 minutes, Smerdon said.
Related readings:


 4 humanitarian workers freed in Somalia


 Witnesses: 2 French journalists seized in Somalia


 Pirates' glossy lives win admirers in Somalia


 ROK warship rescues DPRK vessel off Somalia


 NATO thwarts hijack off Somalia, seizes dynamite
"WFP commends its guards for their actions in defending the compound and the U.N. staff," said Smerdon. "Talks are under way with the local community and the administration to calm down the situation."
He said one of the guards was slightly wounded. WFP relocated the nine international staffers in Wajid to Kenya, but feeding operations were not affected.
An Islamic extremist group, al-Shabab, controls the town and Smerdon said the attackers were "rogue elements of al-Shabab from outside Wajid." That could not be independently confirmed; witnesses said al-Shabab were not involved.
The United States says the group has ties to al-Qaida, which al-Shabab denies.
Somali elder Moalin Isaq said residents had gotten word of an impending attack and organized a group to fight back.
Somalia has been ravaged by violence and anarchy since warlords overthrew Mohamed Siad Barre in 1991, then turned on each other. A moderate Islamist was elected president in January in hopes that he could unite the country's feuding factions, but the violence has continued unabated.
The government and African Union peacekeepers hold only a few blocks of Mogadishu. Al-Shabab, which has foreign fighters in its ranks, operates openly in the capital and seeks to impose a strict form of Islam in Somalia.
Also in southern Somalia, hundreds of pro-government militiamen rolled into Bula Hawa town near the Kenyan border Monday after al-Shabab fighters abandoned it, witnesses said.