LONDON - Crude oil prices surged above $117, setting a new record high on Monday because of worries of supply disruptions from major producers and comments by OPEC reiterating there is no need to raise output.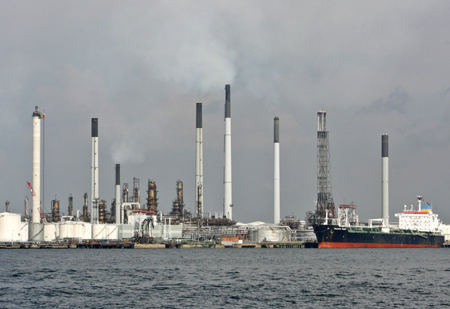 An oil tanker is seen berthed at an oil refinery off the coast of Singapore April 21, 2008. [Agencies] 
US light crude struck a record high of $117.40 a barrel. It was trading 27 cents higher at $116.96 by 1155 GMT (7:55 a.m. EDT).
London Brent crude also struck its all time peak of $114.65. It was trading at $114.20, up by 28 cents.
The Organisation of the Petroleum Exporting Countries (OPEC) sees no need to raise oil production to counter high oil prices, the group's president Chakib Khelil said on Sunday.
His remark was followed by Iranian oil minister Gholamhossein Nozari, who said on Monday oil prices were not too high in real terms.
"OPEC's assertion that an increase in its oil production will not help to bring down prices should be put to the test," the Centre for Global Energy Studies said in a research note.
Scottish refinery
These remarks come amid concerns over North Sea production due to an impending strike by workers at a refinery in Scotland and supplies from Nigeria, Africa's largest oil exporter.
Scottish oil refinery Grangemouth has started to shut down ahead of a two-day strike later in April.
If the union goes ahead with the strike, it will effectively close down a part of the North Sea oil production and some gas output, refinery operator Ineos said in a statement on Saturday.
Refined oil product prices also soared as such a refinery hiccup could further tighten fuel supplies.
Supplies of distillates products, including gas oil for heating and diesel, have been tight in many areas in the world and gasoline demand is expected to rise toward the summer driving season.
London's gas oil futures showed the biggest percentage gain in the oil complex. New York's heating oil and gasoline futures set their record highs.
A rebel group in Nigeria said on Monday it attacked two major oil pipelines there.
Royal Dutch Shell confirmed on Friday that a small amount of production had been shut in due to apparent attacks to its pipeline.
A fall in the dollar also contributed to oil's rally. A weak dollar has devalued assets in the US currency, pushing investors to shift part of their money to commodities and oil.