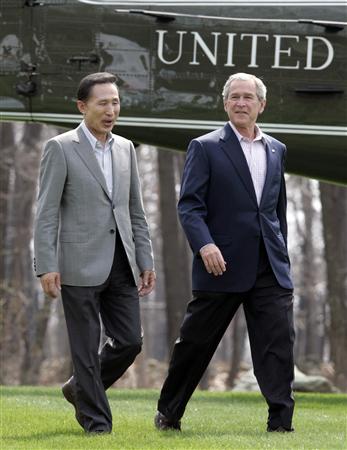 President George W. Bush (R) and South Korean President Lee Yoon-bak walk towards a news conference at Camp David in Thurmont, Maryland, after private talks at the Presidential retreat, April 19, 2008. [Agencies]
WASHINGTON -- U.S. President George W. Bush rejected on Saturday suggestions that he is softening American stand on the policy toward the Democratic People's Republic of Korea (DPRK), saying he would not accept a deal that damaged the interests of the region.
Speaking to reporters after his talks with his South Korean counterpart Lee Myung-bak at the presidential retreat at Camp David in Maryland, Bush said that "Obviously, I'm not going to accept a deal that does not advance the interests of the region."
"They have made some promises and we'll make a judgment as to whether or not they've met those promises, " Bush said. "Then we'll make a judgement of our own ... about our own obligations."
Lee, who stood at the side of Bush, called for patience in the settlement of nuclear issues on the Korean peninsula. "We need persistent patience," he said, noting that it is hard to convince Pyongyang to abandon its efforts to build nuclear bombs, but not impossible.