French President Nicholas Sarkozy on Monday invited disabled Chinese torchbearer Jin Jing - who has become a national celebrity for defending the Olympic torch from Tibet secessionists during the Paris leg of its relay - to visit France again "to make up for the pain you have suffered".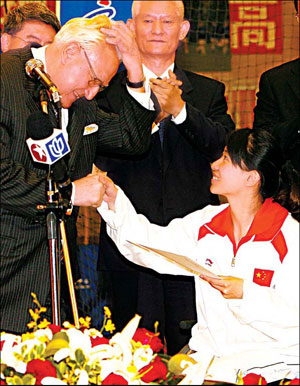 French Senate President Christian Poncelet greets Jin Jing as he delivers a letter of invitation from French President Nicholas Sarkozy to the wheelchair fencer in Shanghai Monday. [China Daily]
Sarkozy's invitation was delivered in a letter presented to Jin by French Senate President Christian Poncelet soon after he arrived in Shanghai for a week-long visit to China.
"I would like to express to you my shock at the way you were attacked in Paris on April 7 when you were holding the Olympic flame. You showed outstanding courage, which honors you, and your country," Sarkozy was quoted as saying in the letter.
"To make up for the pain you have suffered, I sincerely invite you to France in the near future as my friend and a friend of the French people."
Jin has been dubbed the "Smiling Angel in a Wheelchair" after protecting the torch while a Tibetan separatist tried to wrest it from her during the relay in the French capital.
Related readings:


 Sarkozy's sympathy note to torchbearer Jin conveyed


 Ambassador 'felt hurt' by disruption


 Chinese Ambassador to UK: If the West could listen attentively to China


 Attacks on torch anger Chinese younger generation


 Golden girl lifts a nation
Sarkozy said he once again expresses "strong condemnation of such despicable action".
"What happened in Paris has engendered a feeling of bitterness in your country. I want to assure you that the incidents that were brought about by a few people on that sad day don't reflect the feelings of my fellow countrymen for the Chinese people," the letter says.
The message came at a time when anti-France sentiment is running high among the Chinese after the torch's travails in Paris.
Some have called for a boycott of retail giant Carrefour in response to media reports that it supports the Dalai group.
In an interview published in Journal du Dimanche, Carrefour Chief Executive Jose Luis Duran denied the allegation and said his company was "taking the situation very seriously".
Sarkozy's letter to Jin suggests France is returning to rationality, Chinese analysts said.
"Sarkozy needs to weigh the stability of the strategic partnership between the two countries," said Professor Zhao Junjie at the Chinese Academy of Social Sciences, adding Chinese people's resentment appeared to have found resonance with the French leader.
He also called on the Chinese to be rational when expressing anger toward France.
"They should bear in mind that jeopardizing relations with France is not in our national interest," Zhao said.
More French officials will seek to soothe Chinese sentiment soon.
Former prime minister Jean-Pierre Raffarin will arrive tomorrow to meet Premier Wen Jiabao, and Sarkozy's diplomatic adviser Jean-David Levitte will come to China at the end of the week.