Actions speak louder than words, however the words of Olympic torch hero Jin Jing trumpeted louder than her brave deeds. "I would die to protect the torch," she said.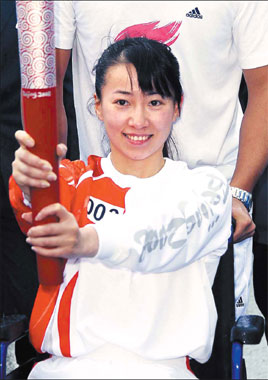 Jin Jing holds up the Olympic torch during the Paris leg of the relay. [Xinhua]
The 27-year-old Shanghai girl, whose name "Jin" means "gold", is now a national hero because of her triumph over adversity. The one-legged fencer put her body on the line for her country. Jin tightly grasped the torch as hysterical protesters tried to snatch it during the Paris leg of the relay on April 7. The wild protesters beat her and one angry man pulled her hair.
She fought back the tears and did not let go.
Jin is now known and loved by more than 1 billion people. The images of her fiercely protecting the flame from attackers and smiling in wheelchair are splashing on front pages all over China. Her story has been told through newspapers, TV shows, and on the Internet.
People marvel at her courage and call her the "smiling angel in the wheelchair".
"I burst into tears when I saw you protect the torch with all your effort. You defend the Olympic spirit," wrote one fan on sohu.com.
"I think you are the most beautiful girl in 2008," wrote another.
Jin arrived at Beijing airport last Thursday, the same time as pop star Jay Chou. The golden girl attracted much more attention than the Taiwan-based singer.
After receiving a hero's welcome, Jin said she did nothing great.
"Any Chinese or Olympics-loving torchbearer would protect the torch under such circumstances," she says.
But the circumstances were not for the faint hearted.
Jin was the third torchbearer during the Paris leg. On the early morning of April 7, she received a text message from a friend, who told her to be extra careful, because in London, some attackers tried to grab the torch.
So she prepared for the worst and insisted on holding the torch with her own two hands instead of following the original plan and placing it on a special support device connected to her wheelchair.
After she received the torch from the second bearer and before the torch was lit, several attackers rushed to her and tried to grab it.
She held onto the torch tightly and guarded it with her body. During the struggle her chin and shoulder were scratched.
Police, her guards and surrounding Chinese students helped her and the torch never left her hands during the scuffle. Despite the anger and the hurt, Jin says she tried her best to hold back the tears.
"I think if you know they will grab your national flag and insult it, everyone would do the same thing I did."
After the scuffle, she gave a smile to the 99 percent of Paris supporters who were supporting her and maintained it all the way.
Student Qiu Yu was on the spot recalled when the drama unfolded and said Jin's smile was a great encouragement for her and her fellow students who were there to support their motherland.
"You may not know how much we were cheered up and encouraged by your smile," Qiu told Jin in a TV talk show. "You are a role model and an upright and brave girl."
The attack infuriated Olympic chief Jacques Rogge, who said any attempt to take the torch from the athletes was destroying a dream.
"What shocked me most is when someone tried to rob the torch off a wheelchair athlete, a disabled athlete who was unable to defend the torch. This is unacceptable," the International Olympic Committee President said last Thursday.
In many interviews Jin attributed her heroic behavior to her three guards and the Chinese supporters in Paris.
"I was protecting the torch, and they were protecting me," she says. "They were fearless and facing up to the separatists. I was moved to tears seeing so many Chinese students waving national flags and singing our national anthem along the route."
Jin sent a text message to her mom after the incident.
"You can be proud of me".
Her mother Liu Huayao said Jin was always a strong and cheerful girl.
At 9, Jin lost part of her right leg due to a malignant tumor in her ankle. She survived the ordeal and worked as a telephone operator in a local hotel.
Her colleagues recalled that she took the bus to work by herself, saved her money to buy fashion magazines, and liked shopping with other girls. She was always cheerful and upbeat, despite her disability.
During a speech contest in 2001, Jin met a coach who invited her to join in the local wheelchair fencing team.
A big fan of fictional swordsman Zorro, Jin agreed, thinking fencing was something symbolizing justice and integrity. She picked it up quickly and won silver and bronze in the 2002 Busan Far East and South Pacific Games.
Although she did not win the chance to compete in this year's Paralympics, her optimism and cheerful personality won her a coveted place as torchbearer.
Like most girls at her age, the Shanghai native likes singing, dancing, photography and surfing the Internet.
Her favorite star is Andy Lau from Hong Kong, but she refuses to call him an "idol", because young people should be idols to themselves, she says.
In a TV show on Shanghai-based Dragon TV, she danced in her wheelchair.
The judges told her: "When a door is shut, a window is opened. Happiness at your heart is the most important."