Shanghai -- China's benchmark Shanghai Composite Index tumbled 5.6 percent on Monday as property developers and other blue chips fell on fears that authorities may further tighten credit to combat inflation.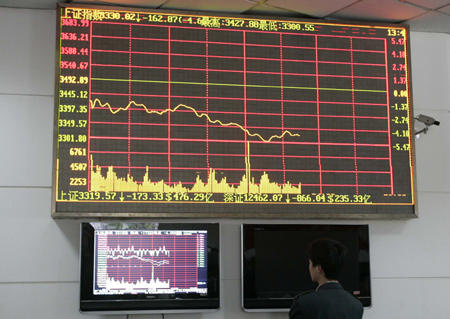 A man reads information on an electronic screen at a brokerage house in Shanghai April 14, 2008. China's main stock index lost more than 3 percent in early trade on Monday as investors cashed out of banking stocks amid worries over the country's persistently high inflation, with sentiment also hit by weakness on Wall Street. [Agencies]
The Shanghai index fell 196.22 points to close at 3,296.67. The Shenzhen Composite Index sank 6.3 percent to 1,009.16.
Other regional markets also dropped following a 2.0 percent decline in the Dow Jones industrial average last Friday. Japan's Nikkei 225 was down 3.1 percent at its close, while Hong Kong's Hang Seng Index had dropped 3.5 percent by mid-afternoon.
Disappointment over a lack of market-supporting moves by Beijing dampened buying sentiment, analysts said.
"The government faces two contradictory choices: economic growth or cooling inflation," said Zhang Xiuqi, an analyst at Guotai & Junan Securities.
"It's clear that further monetary tightening will come, maybe even more strict measures, and investors think that will be at the sacrifice of growth," he added.
Property sector leader China Vanke fell by the daily 10 percent limit to 22.92 yuan. Poly Real Estate Group also dropped 10 percent, to 24.30 yuan.
Market heavyweight PetroChina fell 3.3 percent to 16.91 yuan, helping pull the index lower.
Banks and insurers were also hit by selling.
Shenzhen Development Bank lost 10 percent to 38.69 yuan. Industrial & Commercial Bank of China slipped 5.2 percent to 5.81 yuan. Ping An Insurance shed 6.6 percent to 54.89 yuan.