WASHINGTON -- Zhou Xiaochuan, governor of China's central bank, said on Saturday that the major advanced economies have primary responsibility to stabilize global financial market.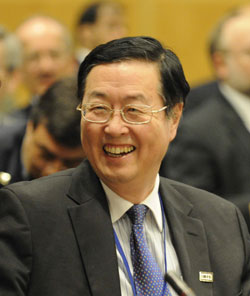 Zhou Xiaochuan, governor of China's central bank, attends the spring meetings of the International Monetary Fund (IMF) and the World Bank in Washington April 12, 2008. [Xinhua]
"Being at the center of the financial crisis, the major advanced economies need to take the primary responsibility for stabilizing global financial markets," said Zhou at the spring meetings of the International Monetary Fund (IMF) and the World Bank.
"They need to adjust their monetary, fiscal, and financial policies in a timely manner without sabotaging medium- and long-term economic and financial stability while improving supervision and transparency," he noted.
"Drawing on recent experience, these economies should evaluate their financial innovation practices, improve risk assessment strategies, and strengthen supervision of speculative activities. We welcome their recent initiatives to improve financial regulation," he added.
He also warned of the slowdown of the world economy. "The global economic and financial outlook is of grave concern. Global growth faces substantial downside risks in 2008," he said.
"The increasing risk of the US economy sliding into recession is expected to affect Europe, Japan, and the major emerging market economies to varying degrees," said the head of the People's Bank of China.
"Those emerging market economies with weak financial systems or heavy reliance on foreign capital are likely to suffer a severe shock," he warned, adding the biggest risk to the global economy remains the financial crisis emanating from the US sub-prime mortgage sector.
Zhou also pointed out that in the early stages of the crisis, the IMF did not pay adequate attention to, nor did it make timely analysis of, the impact of the US sub-prime meltdown on external stability.
"It underestimated the severity of the crisis and failed to present effective policy advice to deal with the negative impact on international financial markets and the global economy," he said. "Instead, the Fund was too preoccupied with exchange rates, whose orderly adjustment is already well on the way."
He called on the IMF to improve its analysis of the linkages between financial sector development and the real economy, including the implications of the financial crisis for members' macroeconomic and financial stability.
Many emerging market and developing countries confront the risks of economic overheating and heightened inflationary pressures as well as a global slowdown, said Zhou, noting they need to monitor closely changes in trade and capital flows, speed up domestic reforms, improve resilience to external shocks, and effectively adjust macroeconomic policies in a timely and flexible manner.
"Heightened trade protectionism in the context of a global slowdown has made inroads into the financial and investment sectors," warned the China's central bank chief.
"We call on all parties to take firm actions against protectionism and continue to promote the multilateral trade liberalization process," he said.