BOAO, Hainan -- Chinese President Hu Jintao on Saturday said the reform and opening-up policy is a "crucial choice" that has shaped today's China, and a choice made by the 1.3 billion Chinese people.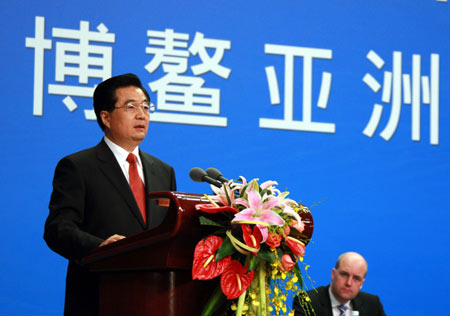 Chinese President Hu Jintao delivers a speech at the opening ceremony of the Boao Forum for Asia (BFA) annual conference in Boao, Hainan on April 12, 2008. [Xinhua]
This year is of special significance to China, Hu said at the opening ceremony of the Boao Forum for Asia (BFA) annual conference here in a speech entitled "Continuing Reform and Opening-up and Advancing Win-Win Cooperation".
"Thirty years ago, under the leadership of Deng Xiaoping, the Chinese people resolutely embarked on the historic journey of reform and opening-up, an initiative taken by Deng Xiaoping. It started a great new revolution in China under the new historical circumstances," he said.
Over the past 30 years, the Chinese people had unswervingly carried out reform and opening-up and pursued socialist modernization, he said, adding the country had made great progress in terms of growing its economy, enhancing its overall national strength and improving the living standards of its people.
"China has successfully made the historic transition from a highly centralized planned economy to a robust socialist market economy and from a closed and semi-closed country to a country that is wide open to the outside world," the president said.
Hailing China's rapid economic growth, Hu said the Chinese people, once lacking basic living necessities, are now enjoying initial prosperity. He said the poor rural population in China has dropped from over 250 million to about 10 million.
Remarkable achievements have also been made in China's efforts to improve the political system and promote cultural development and social programs, he noted.
"If a country or a nation is to develop itself in this increasingly competitive world, it must advance with the times, carry out reform and opening-up, boost development, put people first and promote harmony. This is the conclusion we have drawn in the great cause of reform and opening-up," Hu said in his speech.
"There is no ready or unchanging path or model of development that suits all countries in the world," he said, adding China must explore and improve its development path and model in keeping with its national conditions.
"In so doing, we must adapt to new trends both at home and abroad and meet the people's growing expectation for a better life. We must make the Chinese society more vibrant. And we must truly keep up with the trend of the times and share the same destiny with the people," he said.
Calling China the biggest developing country in the world, Hu said the country still has a long way to go before it can basically achieve modernization and bring about common prosperity to all of its people.
"Reform and opening-up are what have made fast development in China possible in the last 30 years, and they also hold the key to China's future development," he said.
Hu also said the Chinese people are dedicated to the great cause of reform and opening-up, and will continue to build a society of initial prosperity in all respects and realize basic modernization in China and contribute further to the noble cause of peace and development of mankind.