SANYA, Hainan -- Chinese President Hu Jintao said here Saturday that the Tibet problem is entirely an internal issue of China, and national unification features the conflict between the central government and the Dalai group.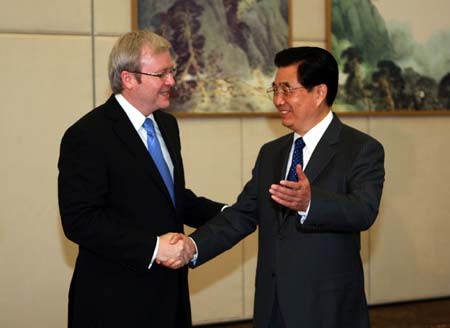 Chinese President Hu Jintao (R) shakes hands with Australian Prime Minister Kevin Rudd who attends the annual meeting of the Boao Forum for Asia (BFA) in Sanya, south China's Hainan Province, April 12, 2008. [Xinhua]
"Our conflict with the Dalai clique is not an ethnic problem, not a religious problem, nor a human rights problem. It is a problem either to safeguard national unification or to split the motherland," Hu said.
He made the remarks while meeting with visiting Australian Prime Minister Kevin Rudd in Sanya, a scenic city in south China'sHainan Province.
Talking about the violent crimes in Lhasa, capital of southwest China's Tibet Autonomous Region, and some other places, Hu stressed that all these incidents were not "peaceful demonstrations" or "non-violent" actions proclaimed by some people, but sheer violent crimes.
"No responsible government will sit idle for such crimes, which gravely encroach human rights, gravely disrupt social order and gravely jeopardize the life and property security of the masses," said the president.
Hu stressed that the door for dialogue between the central government and the Dalai Lama is open. "The barrier to contacts and talks does not lie on our side, but on the side of the Dalai Lama. If the Dalai Lama has the sincerity, he should put it into action."
"As long as the Dalai side stops activities splitting the motherland, stops activities scheming and instigating violence, and stops activities sabotaging the Beijing Olympic Games, we are ready to continue contacts and talks with him at any time," Hu said.
Rudd stressed that Australia fully recognizes China's sovereignty over Tibet and Taiwan. The one-China policy adopted by Australia remains unchanged.
He added Australia hopes to become a sincere friend of China. The development of long-term, friendly and cooperative ties with China is a long-term strategy of Australia.
Rudd also wished the Beijing Olympic Games a success.
Rudd came to visit China at the invitation of Chinese Premier Wen Jiabao. Wen held talks with him, and top legislator Wu Bangguomet with him in Beijing.
The Australian prime minister will attend the opening ceremony of the annual meeting of the Boao Forum for Asia on Saturday afternoon in Boao of Hainan Province.