TEHRAN -- Iran on Sunday rejected US and British leaders' latest allegations that the Islamic Republic may be trying to develop nuclear weapons.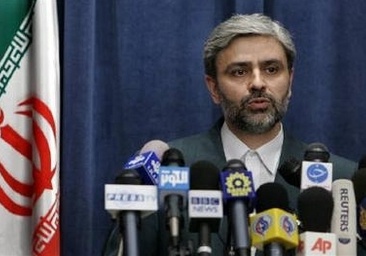 Iran's Foreign Ministry spokesman Mohammad Ali Hosseini speaks to journalists during a news conference in Tehran in this February 12, 2007 file photo. [Agencies]
Iran has no secret or confidential nuclear activity and the entire program is under the supervision of the International Atomic Energy Agency (IAEA), Iranian Foreign Ministry spokesman Mohammad-Ali Hosseini told his weekly press briefing. He rejected as "baseless" the recent allegations made by US President George W. Bush and British Prime Minister Gordon Brown against Iran's nuclear program, the official IRNA news agency reported.
At a joint press conference with Bush after their talks in the White House on Thursday, Brown called for strengthening sanctions on Iran.
"Iran continues to defy the will of the international community. And we are agreed on the need to strengthen the sanctions regime and ensure that these sanctions are effectively implemented," Brown said.
For his part, Bush said Iran is "untrustworthy" and claimed it is "naive" to believe Iran could not transfer nuclear enrichment knowledge from any energy development to atomic bomb production. The United States and its allies have accused Iran of trying to develop nuclear weapons under the cover of a civilian nuclear program. Iran has denied the charges, insisting its nuclear program is for peaceful purposes only.