Three of the four provinces along the Huaihe River have failed to meet their industrial waster water reduction and treatment target, the Ministry of Environmental Protection (MEP) said Monday.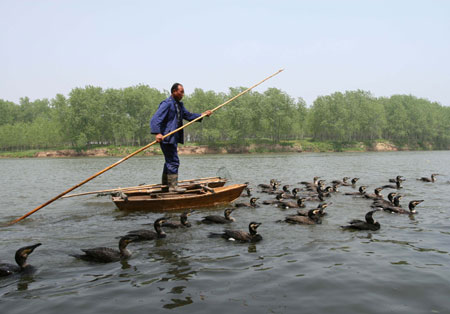 A fisherman uses cormorants to catch fish in a branch of the Huaihe River in Fuyang, Anhui province, on Friday. The main body of the river, however, is still heavily polluted, an environment ministry report has shown. [China Daily]
The ministry released a report on its website on the findings of a four-day inspection tour of the river held in February.
The tour was jointly conducted by the ministries of water resources, housing and urban-rural construction, and the National Development and Reform Commission.
The report said due to improper monitoring and weak law enforcement, the river is still plagued with ammonia and nitrogen.
The chemical oxygen demand (COD) is excessive.
Currently, there are 191 urban wastewater treatment plants along the river, able to purify about 7.5 million tons daily, and about 2.7 billion tons annually, the MEP report said.
A previous report by the Xinhua News Agency said an average of 4.4 billion tons of waste is discharged into the river every year.
That means that only about 60 percent of the daily wastewater from industries and households can be treated.
Huaihe River, the country's third largest, stretches more than 1,000 km through Henan, Anhui, Jiangsu and Shandong provinces.
The four provinces signed responsibility pledges with the central government last year to clean up the river.
They pledged to complete a certain number of waste treatment projects.
However, the report found only Shandong had kept its pledge in treatment of industrial waste water.
The MEP report did not go into detail about the failures and no punishment was mentioned.
The MEP urged policymakers to consider water quality improvement of the Huaihe River as an essential task of local officials. The ministry said it should serve as part of the appraisal index of officials.
The monitoring of wastewater purification facilities along the river need to be strengthened, the report said. The building of more treatment plants must be speeded up, and more funds allocated.
Regarded as the dirtiest river in the country, Huaihe's COD was 80 percent higher than the excepted standard in 2006.
In addition, 80 percent of the river's groundwater, to a depth of about 50 m, is also seriously polluted, a report conducted last year by the environment and resources protection committee of the National People's Congress, said.